Any travel implies spending, and you get to fork out money from the moment you book your travel ticket to the one when you purchase souvenirs somewhere on another end of the world. If you don't want to carry home anything else, like a big hole in your budget and post-vacation blues, but an exceptional experience and awesome memories, you should establish and implement a payment strategy while traveling.
Hence, every traveler should know how to manage money when traveling internationally to make the trip as budget-friendly and effortless as possible. That means choosing the right payment methods for convenience, safety, and also for money saving. You might know several, like credit card payments or cash payments, but surprisingly, or not surprisingly, some payment options can't be applied everywhere in the world. Not to say, not every payment method might be convenient for you.
In this instance, picking the right international payment methods is crucial for your trip abroad. You won't be happy to spend your time in a gorgeous location and not be able to pay for some activities or purchases. Therefore, Airflyby Blog will guide you through multiple options of travel payments and will show the benefits and downsides of each, so you don't fold up on foreign currency transactions, such as exchanges and withdrawals.
Credit and Debit Cards for International Travel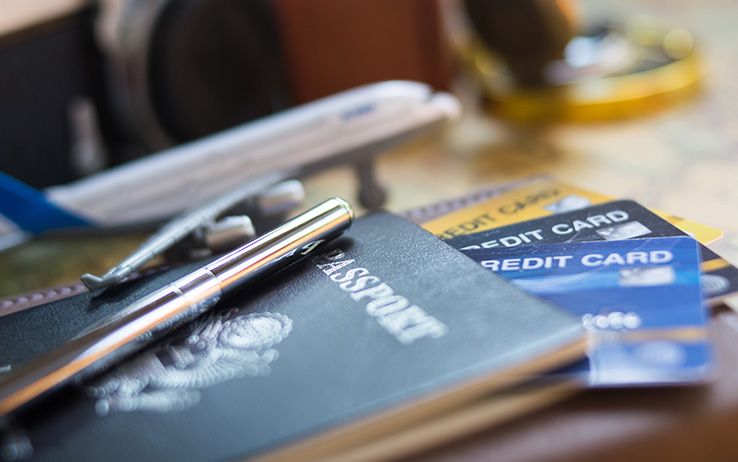 Credit cards are one of the most convenient payment options when traveling, as this small piece of plastic can pay for your accommodation, car rental, and exquisite dinners in world-famous restaurants. But, nonetheless, it is so handy, it carries substantial downsides. What if you travel to a remote location, for instance, Galapagos, where you'll be able mostly to pay with cash?
Here's the first sign that should make you research the destination carefully and be precise with the payment methods. As most of the countries you might travel to provide services that can be paid for with credit cards, you may find this option the most suitable. Credit cards are quite safe, as they are protected from theft, have low exchange rates, and some are even offering attractive benefits. For instance, rewards points, free hotel rooms, flights, and (what's incredible) no fees for transactions in a foreign currency.
Credit cards are quite safe and take no fees for transactions in a foreign currency.
Another useful type of cards for travel are debit cards. Just like credit cards, debit cards are widely accepted around the world. But it could get out without at least one setback, as debit cards are less safe and fraudulent actions can be imposed if stolen. Also, traveling only with a debit card can be problematic, since several services, like car or hotel room rental, can't be paid off with one abroad.
Talking of credit and debit cards collectively, you may want to carry one of each for your overseas trips. Keep in mind that not every ATM ('automated teller machine' - that allows people to take out money from their bank account) accepts certain credit and debit cards. Do your research and find out if ATMs are available at your destination and what foreign exchange fees are applied to your cards when making transactions.
Debit cards are accepted everywhere, but they are less safe.
There are high chances to save money and get your desired cash when withdrawing money overseas if your credit or debit card is part of a global network. For example, Cirrus and Plus debit cards are recognized worldwide.
The same applies to ATMs. As fees are the biggest issue in this case (you might find out that fees are applied to every transaction and even to inactivity), having an ATM that doesn't rip off your money every time you make cash withdrawals, is the key to a budget-friendly trip.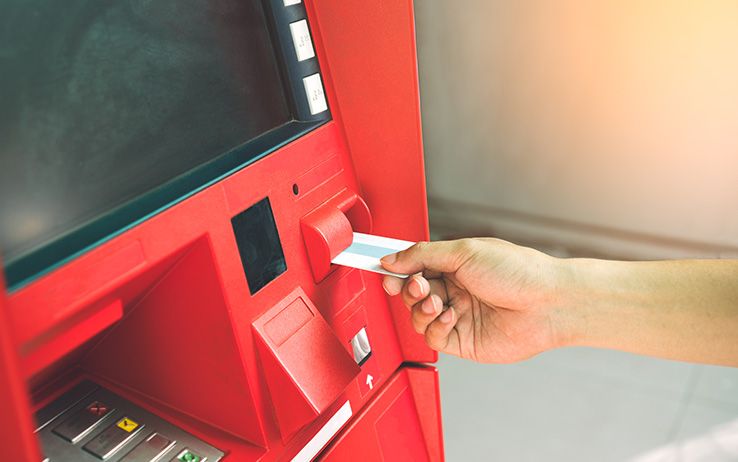 Tip: Check if your bank is a member of the Global ATM Alliance before travel starts.
When using the ATM for cash withdrawal, you may find out that the fees are minimized or completely eliminated. For instance, if you are a Bank of America account holder, and you travel to Italy with a debit card, go ahead and find a BNL d'Italia ATM to withdraw cash.
Taking part in the Global ATM Alliance can offer to Bank of America account holders plenty of benefits, such as no ATM operator access fee, no fees for withdrawals, transfer, or balance inquiry, but still, there is a 3% international transaction fee.
In conclusion, we can say that carrying a credit or debit card for foreign travel is convenient in most cases. Just pay attention to the ATM fees, check the available ATM, and think about the things you are going to purchase, and services you are going to pay for.
Prepaid Debit Cards for Travel
You may think that this is just a regular debit card, but, in fact, a prepaid travel card acts a bit differently. The only similarity between a prepaid travel card and a prepaid debit card is that you can charge it. As you can tell from its name, it is a specially designed card for travel. Thus, it can hold various perks and features for your trip based on the bank that issued it.
Many countries accept this payment method, it is a safe one, and the foreign currency exchange rates are quite accessible. But, as expected, there are some pitfalls, and these are the fees. Fees for using prepaid travel cards can be various and fairly exorbitant. Hence, you may get and use one only in an emergency.
Pay in Cash While Traveling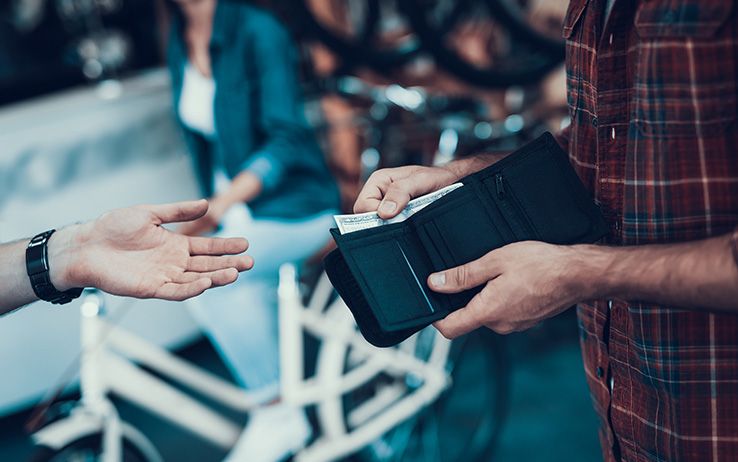 Don't forget to buy foreign currency in advance or withdraw cash at a local ATM. This is because you might find out that not everything can be purchased with a credit or debit card. The first thing you would want to make sure, is to compare the exchange rates back at home with those abroad, if possible. Also, check several exchange bureaus at your destination to make sure you get the best foreign currency exchange rate.
We advise making small cash withdrawals, since carrying large amounts of cash is not safe. Thefts can occur to anyone and anywhere in the world, not to say you can lose real money easily. Also, use the debit card for withdrawals and avoid using credit cards for the same purpose if you don't want to burn a hole in your wallet.
International Money Transfer
Who said you can't send money to yourself from your bank account via postal money orders and companies like Western Union? You are free to do it as long as you want to wait in massive queues, pay bewildering fees, and bear with those unacceptable exchange rates. Our verdict: keep this payment method as an alternative.
Cheque Payments
Long before prepaid travel cards, credit cards, and even debit cards have become a staple, paying with cheques was an extremely common habit. Now, you are also able to use a travel cheque to make a payment, but, let's face it, not every bank accepts one since these are not popular like they used to be.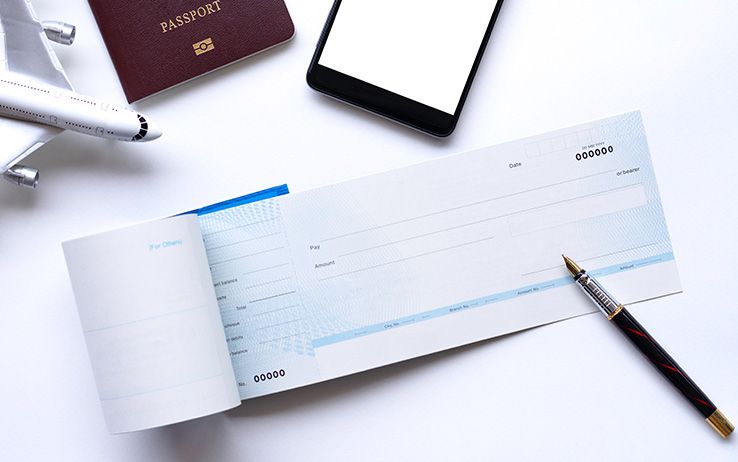 Nevertheless, if there aren't any possibilities to pay with a regular credit or debit card, and there's no ATM available, you might find travel cheque payment the only accessible payment method.  It is our duty to inform you that you will be charged fees when you get them and additionally when you cash them. And don't forget that you'll have to meet a physical teller to perform the whole thing.
Innovative Payment Methods
We live in the era of innovative technologies that keep appearing and progressing every day. The same applies to payment methods, new ones being born to ease the lives of people, and especially those who travel. You may already be familiar with several ones, but here's a little reminder of what payment methods you may choose while planning a trip or traveling.
Most of the world is acquainted with Apple Pay. This innovative technological solution allows people to pay with their Apple devices. What's more, this contactless payment system is compatible with almost every bank and merchant website. The same solutions were adopted by Google (Google Pay) and Samsung (Samsung Pay).
Virtual Cards are becoming more and more popular among travelers since a wide variety of services, including hotel and flight bookings, as well as car rentals, can be paid virtually. This is a handy solution for those wanting to carry none of their cards and have centralized billing with a single statement.
Virtual cards consist of a single-use card number based on the Mastercard acceptance network which works in almost every country and more than 36 million stores worldwide.
An amazing new solution for those traveling for business is the Centralised Payment Service. It allows to avoid invoice creation (hence no mistakes can be made), to monitor the expenses, and to have a simple and transparent billing viewing. The companies that provide this solution is Accor, Edenred, and AirPlus.
---
As you can see, there are pretty many payment options when it comes to traveling internationally. Choosing only one is not welcome since you can never tell what situation might happen at your destination. We advise picking several options, for that "just in case," so that unexpected circumstances don't catch you off guard. We wish you get this piece of info informative and useful, and hopefully, no emergencies happen during your trips, wherever you may go!
Last Updated on February 14, 2020.