There is no better time than St. Valentine's Day to spoil your significant other with a luxurious and romantic getaway and to show your love and appreciation you have for her/him. In case you have a lack of Valentine's Day date ideas, Airflyby Team is at your disposal to provide you with several attractive ones. Read on and discover our selection of the best vacation spots for couples to celebrate this holiday of love.
1. Rhodes, Greece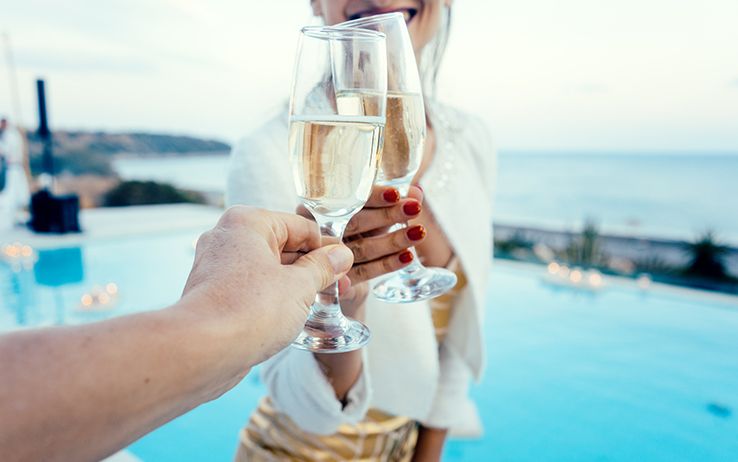 Among some of the most idyllic European destinations is unquestionably Greece. Since the gorgeous coastlines eternally bathed in the sun go hand-in-hand with romance, a sailing tour along Rhodes coastline may seem like an excellent solution to spend a marvelous time with your valentine.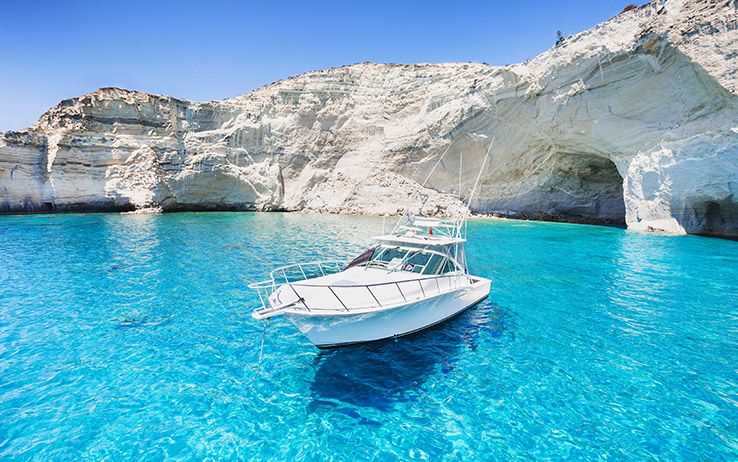 If you are thinking about where to rent and sail a yacht, Rhodes is the location you may choose since it offers picturesque views of the Mediterranean Sea and an extraordinary experience. Couple it with sunbathes during the day and an exquisite dinner in the evening to set the romantic mood.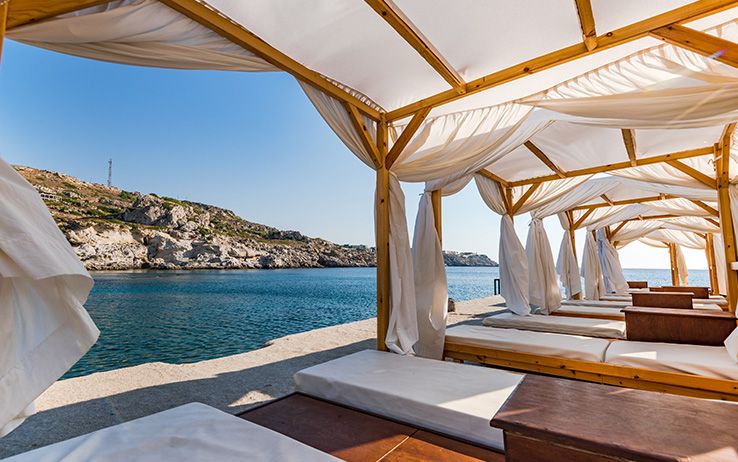 2. London, United Kingdom
It is incredibly easy to go over the top with your declarations of sentiments to your lover in London. If you are searching for some offbeat things to do for couples on St. Valentine's Day, which are set to impress your beau, here are a couple of ideas.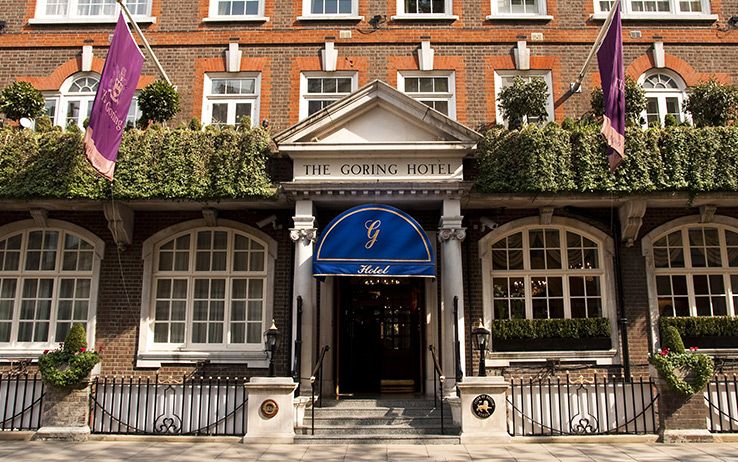 Since you are around London, you have to take your sweetheart to one of the best places for afternoon tea. The Goring Hotel is the finest way to celebrate the relationship between you two with a six-course dinner and a marvelous experience.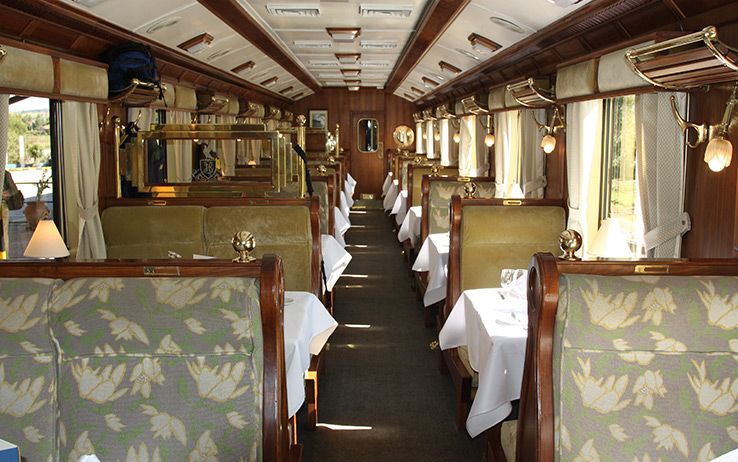 Other than that, you might want to spend the day as glamorous as dinner. Taking a Ride on the Orient Express might be a concoction of both since you get to see the most captivating cities of Europe and have dinner in the iconic train cabin that has an absolutely romantic ambiance.
3. Paris, France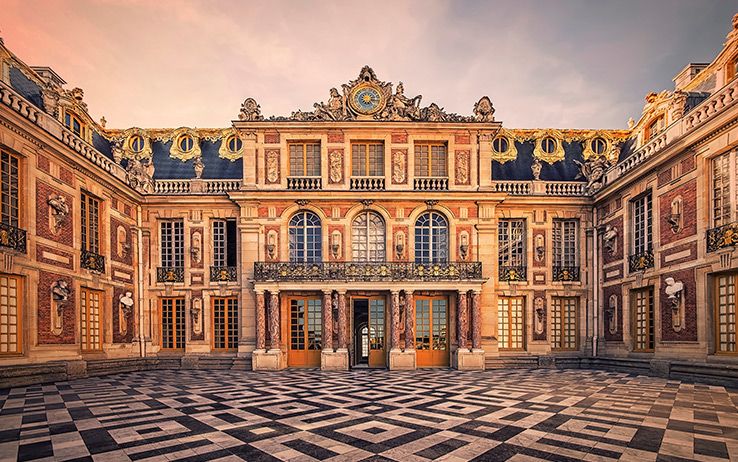 Oh la la, Paris! You probably expected to see the capital of love on our list. Paris, with its extensive idyllic places and things to do for couples, is the epitome of all romantic cities for Valentine's Day.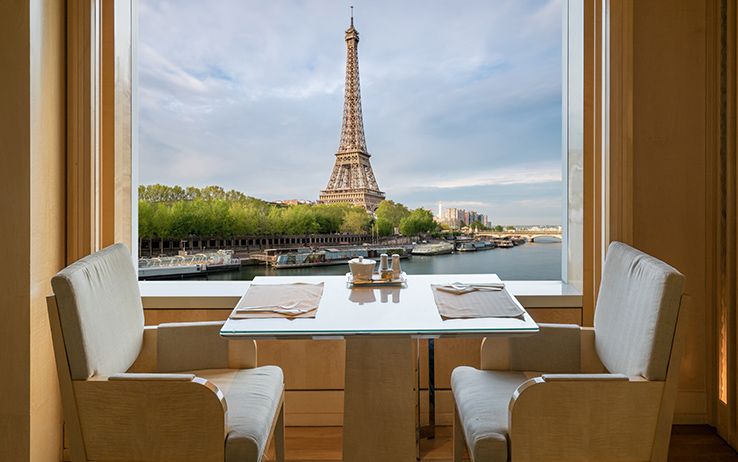 Among some of the best things we have to recommend is a package of full-day activities fit to fulfill all of your dreams and plans you had for this day. A Versailles and a city tour topped with a lunch on the Eiffel Tower might be the perfect match to your desires to spend this lovely day.  
4. Munich, Germany
If you are the party types, you may find the Rooftop Sundowner event convenient. Both of you will be able to share a couple of glasses of champagne, as well as party till dawn. You are welcome to join the celebration of Valentine's Day with a couple of more pairs to have the best time of your life around your friends. What's more, an outstanding view from the rooftop of the luxurious Sparkling Munich Hotel is all out to get you impressed.  
5. Zurich, Switzerland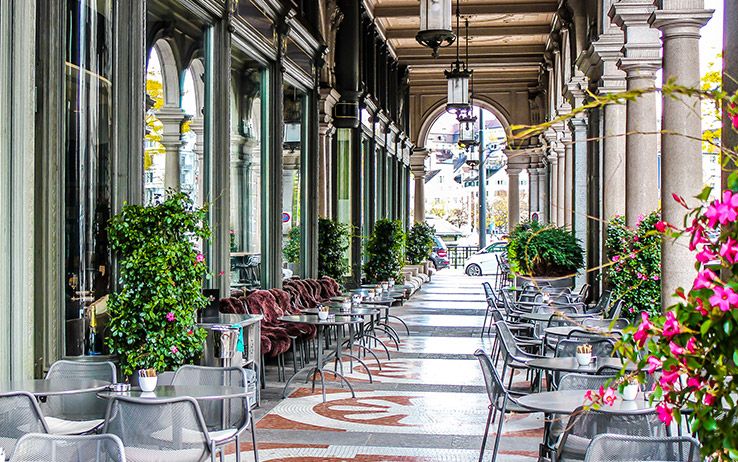 A trip to Zurich might be one of the most fantastic Valentine's Day romantic gifts since this gorgeous city is about to sway your beau. It is not enough to travel to this destination, hence, you would have to plan the day to keep you both entertained with things that will also leave some unforgettable memories.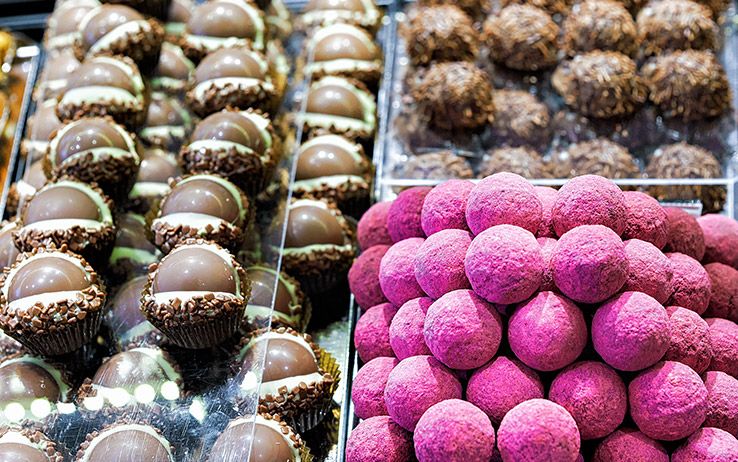 Take your better half to a local chocolate boutique and let her pick the most delicious swiss chocolates, shower her with beautiful and fragrant flowers, inspect all the secluded corners of the city, and at the end of the day, surprise her with a lavish dinner, for instance, at the Metropol Restaurant.  
6. Barcelona, Spain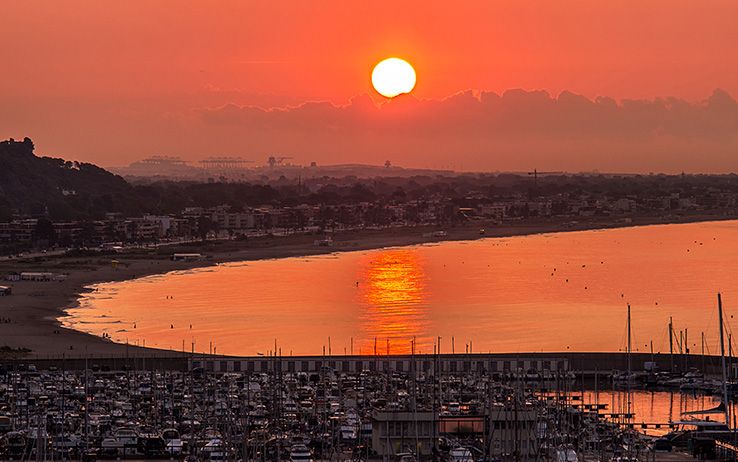 The experience you get in Barcelona during Valentine's Day may stand out of the rest you previously spent. Indulge yourselves with a romantic and intimate time spent on a sailboat, admire the sunset while sipping on wine or champagne, and share some exceptional moments in your lives. This way, you are going to build some unforgettable memories that will last in your beau's heart.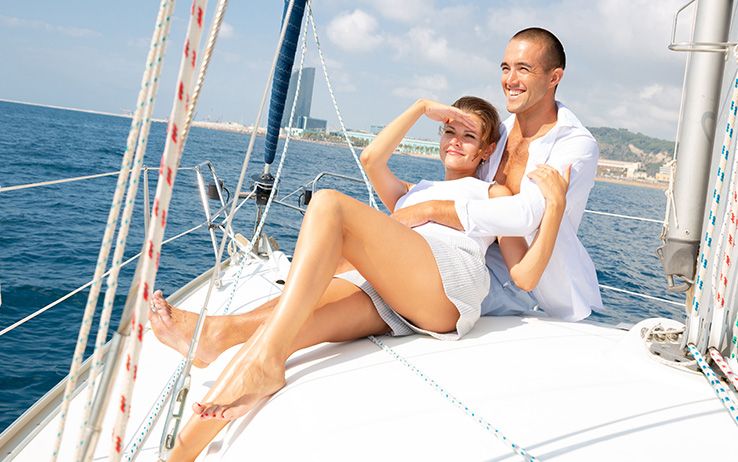 7. Tel Aviv, Israel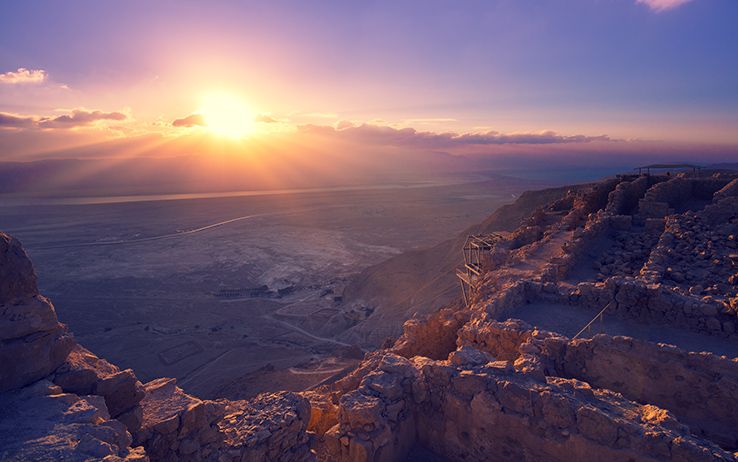 Valentine's Day is not that big in Israel than in some other places, but that doesn't mean Tel Aviv can't be considered to be part of the best vacation spots for couples. After you visit some places and get embarked on some fun activities, you are going to see how you start to fall for this city.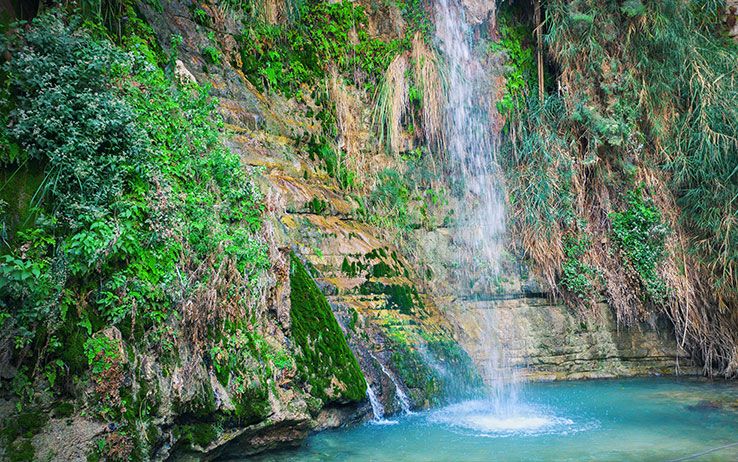 To gain an unforgettable experience, get on a Masada Sunrise, Ein Gedi & Dead Sea Tour. Meet the sunrise with your valentine from Masada - one of the most romantic spots on this tour, which reveals a gorgeous dawn.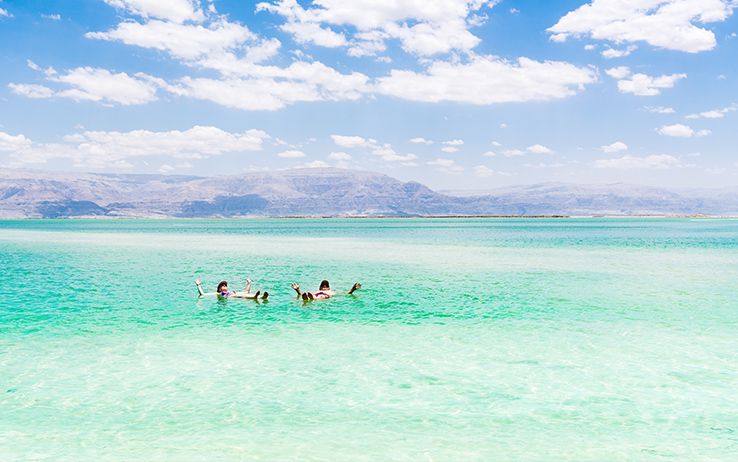 Next, hike the Ein Gedi Nature Reserve, which shelters a wide range of unique desert plants, rich wildlife, and awe-inspiring landscapes. And last but not least, get to know the Dead Sea. Experience the most unique feeling by floating on its surface and gain stunning memories.  
8. Tokyo, Japan
Among some of the best travel destinations, this Valentine's Day, is Tokyo. Though you would think that this busy city can't have an intimate corner just for you two, we are here to prove you wrong. Tokyo might be the location for among some of the best getaways for couples since it offers a different experience.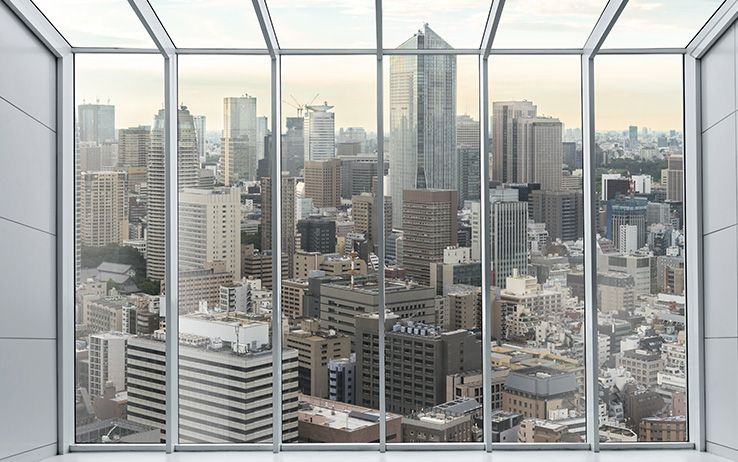 If you want to gain the most outstanding memories with your beloved one, you may book a luxurious room at the Palace Hotel Tokyo. This marvelous hotel provides a unique design that combines three elements: sparkling water, lush greenery, and modern skyscrapers.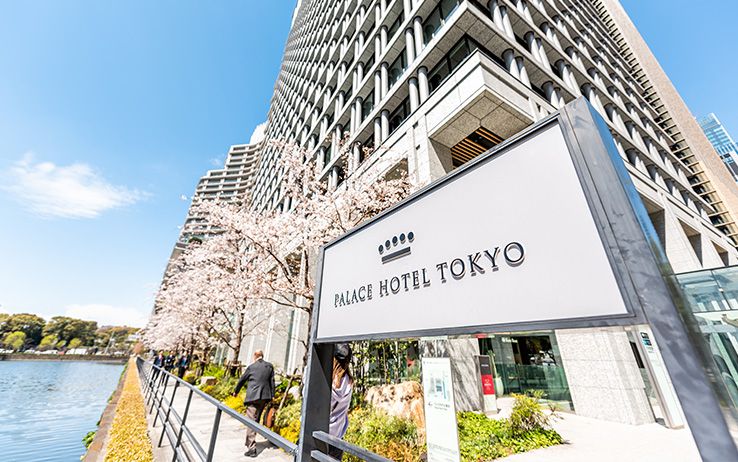 Besides the refined accommodation, the numerous restaurants, bars, and lounges showcasing haute cuisine, complete with sophisticated dishes and drinks can boost your experience.
9. Geneva, Switzerland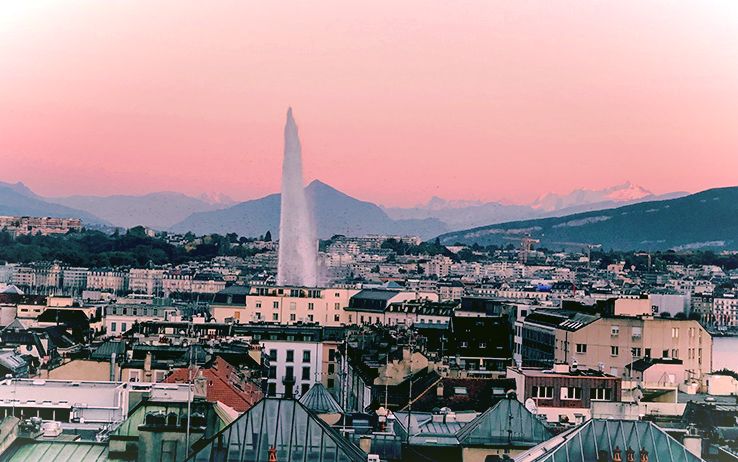 Geneva is part of the most expensive cities in the world, and hence, it quite easily can be considered as one of the most luxurious destinations as well. To create one of the most romantic getaways for couples, you will have to splurge on a fine dinner. The perfect option with a small twist is a dinner in the dark offered by Warwick Hotel. It is set to sizzle up your senses and enhance the already romantic aura of the place.
10. Vienna, Austria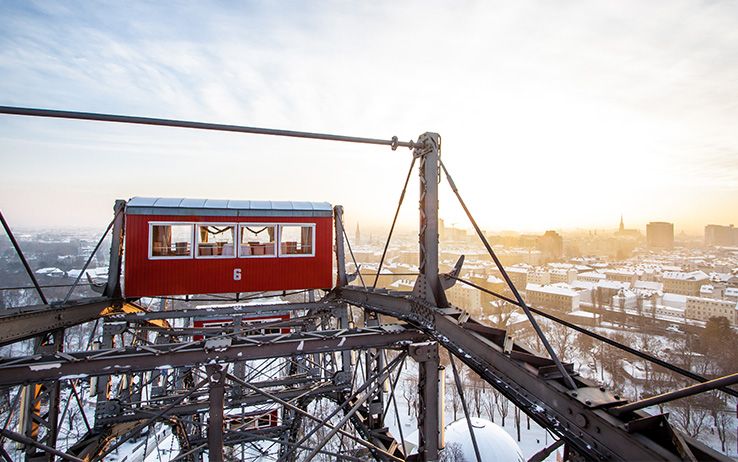 If you pick Vienna as your idyllic spot to celebrate the love between you two, you may find the Vienna Giant Ferris Wheel as the most extraordinary place to spend the evening. This iconic attraction in Vienna offers an incredibly romantic experience coupled with gorgeous above the ground cityscapes and a refined candlelit dinner.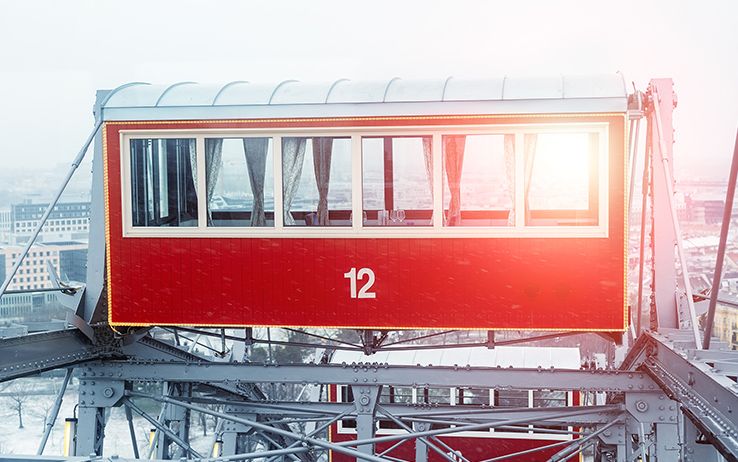 If it is not romantic enough, there is a possibility to upgrade to a Romantic Crystal Dinner, which also includes an exclusive gift voucher for Swarovski Wien.
11. Berlin, Germany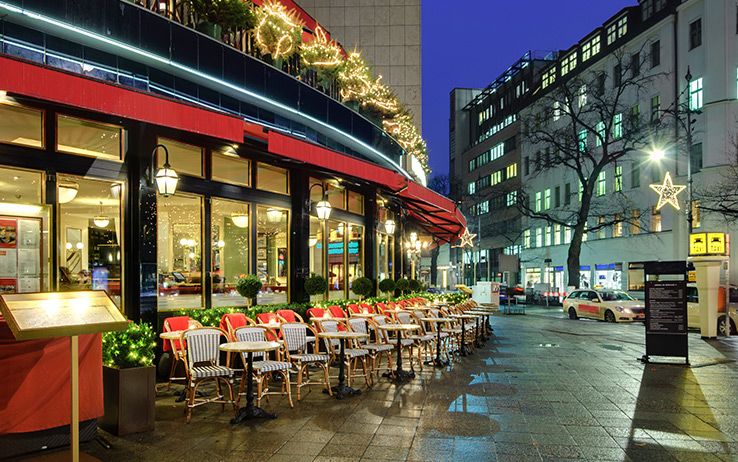 You'd want to stay warm and cozy for Valentine's Day since Berlin is quite freezy in mid-February. Visit one of the atmospheric restaurants that will also provide you with top-notch service and an intimate setting.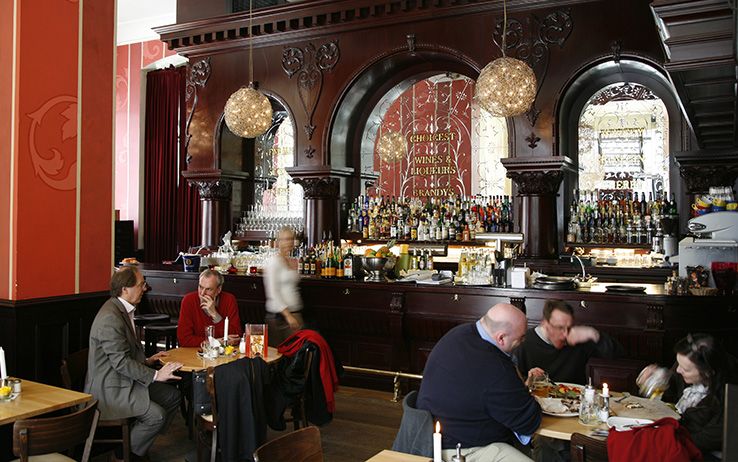 Since Berlin has no lack of sophisticated restaurants, you'll be able to find easily one fitted to your taste. Osteria Maria is our recommendation since the venue is one of the chicest and refined dining options with a romantic vibe to it.
12. Venice, Italy
Not even the chilly weather can stop the couples from invading the floating city. Venice has always been a crowded place, but that doesn't stop claiming it one of the best places to visit in February.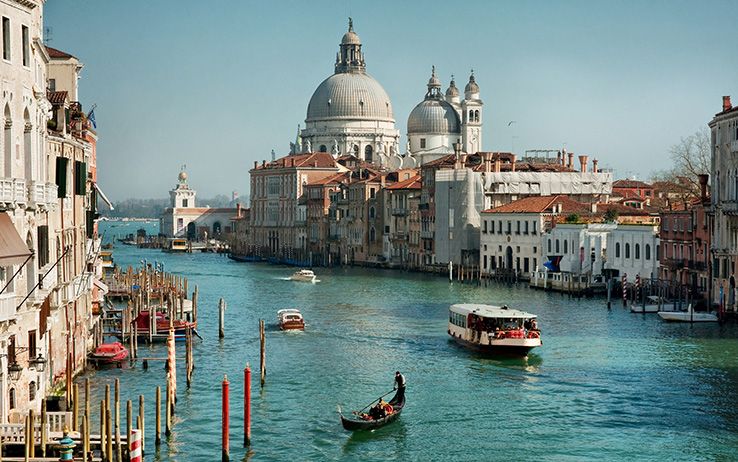 If you've planned to visit Venice for Valentine's Day, you will enjoy the trip since it is considered to be part of the most beautiful places in the world. You don't have to wonder about what things you can do with your lover while on a love trip to Italy since there are so many.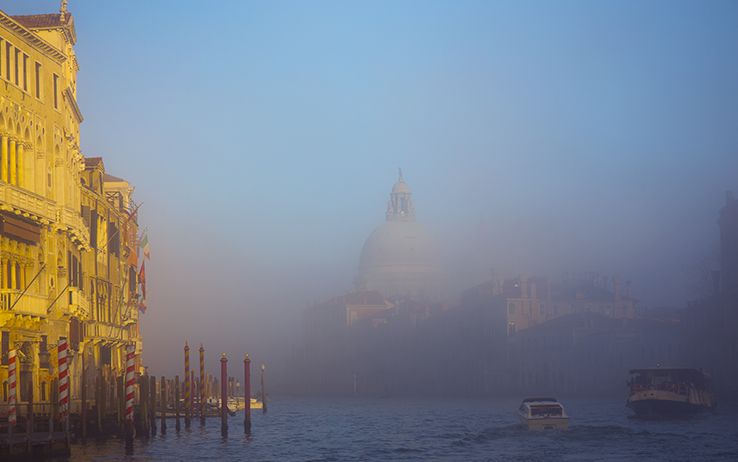 For instance, take a Grand Canal Boat Tour. It is a popular activity, and it is a missed opportunity not to sail through the narrow canals. Get on this adventure and spend the most romantic 60 minutes of your life.
Venetian dishes completed with seafood delicacies constitute an amazing aphrodisiac and might set the intimate mood between you two. Book a restaurant table and end the day with the finest dinner.
13. Lisbon, Portugal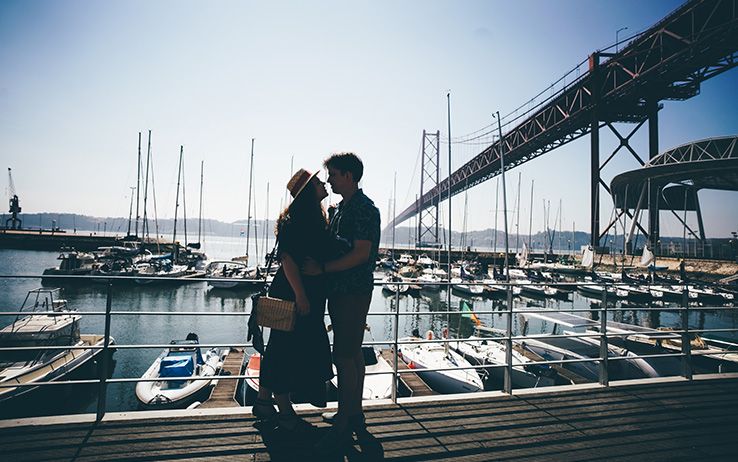 In case you aren't afraid of heights, and both of you are willing to do something extreme this Valentine's Day, a helicopter tour over Lisbon might be a great choice. Discover the spectacular views of the city from a different perspective and get the most incredible memories. It is a wholly different experience that will make your heart beat faster!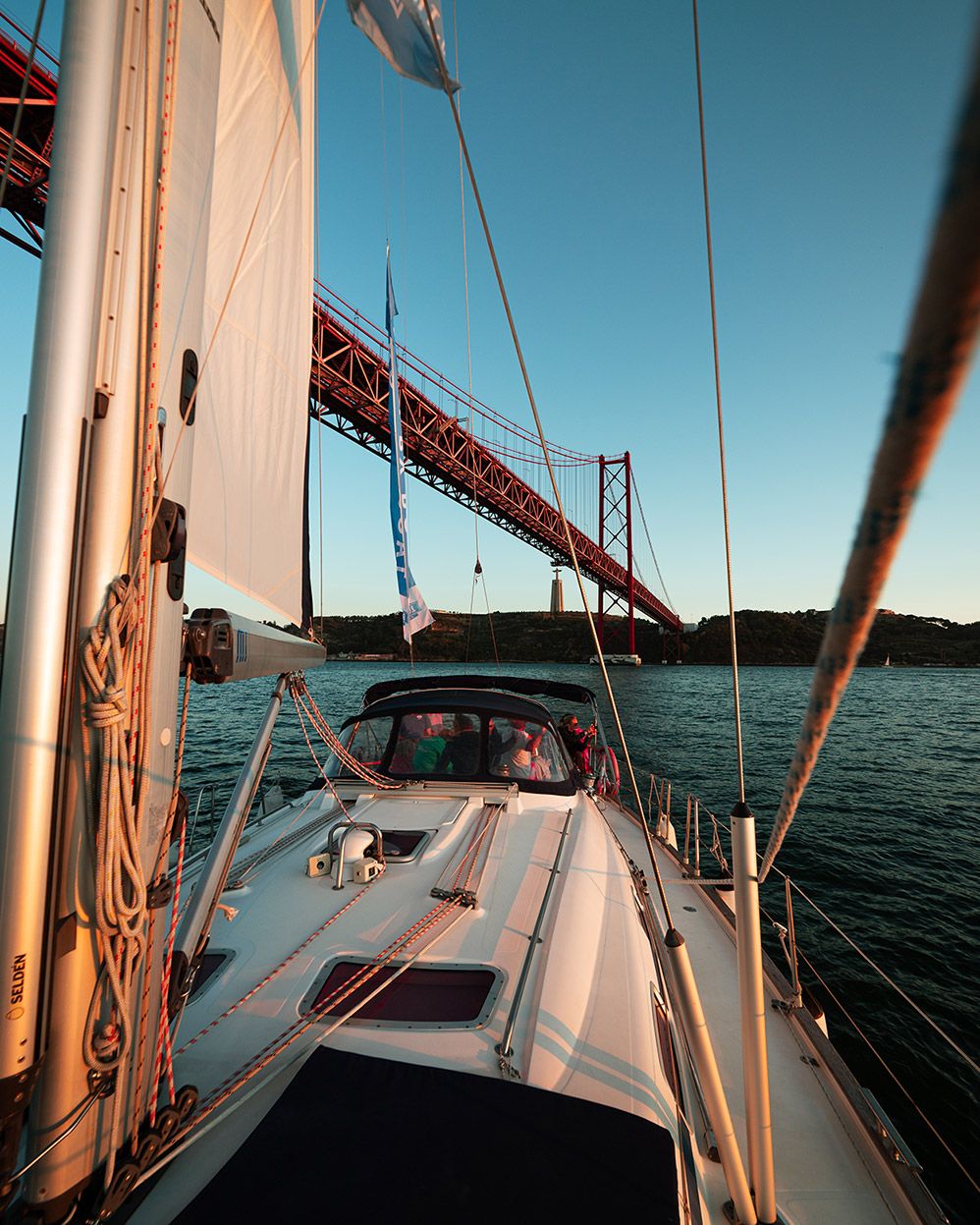 If you are all out for a chillout experience, the yacht cruise on Tagus River is going to appease your desire for idyllic and glamorous leisure time with your beau. Don't forget to bring some refined champagne to celebrate the love between you two.
14. Seoul, Republic of Korea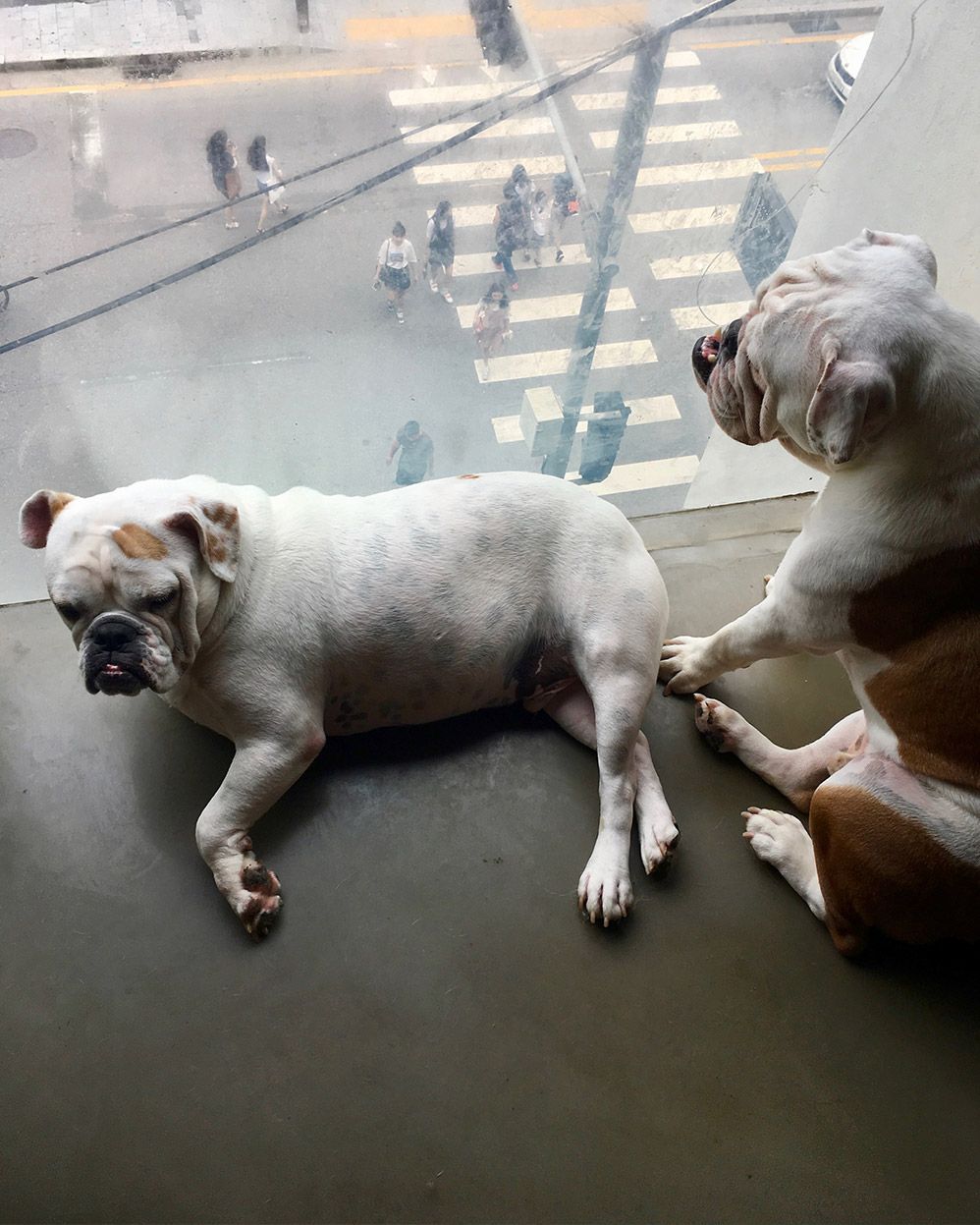 Some of the most candid moments can be attained in one of the best places to travel - in Seoul. You can have it all: watch a movie in the world's first reclining bed theatre called Tempur Cinema or drink coffee and enjoy some delectable treats at all sorts of themed cafes (you can find cats cafes, dogs cafes, and even raccoon cafes).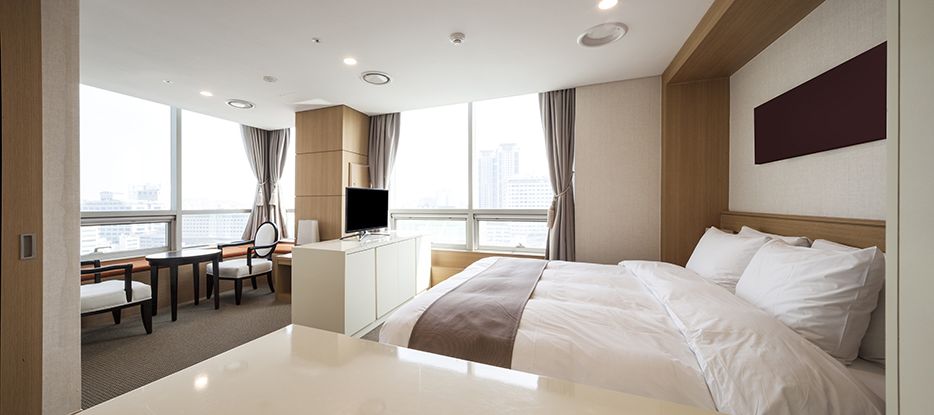 And if you want to arrange something extravagant for your significant other on this special day, then you can order a table for two in the luxurious Grand Hyatt Seoul Hotel and have the finest dinner of all.
15. Amsterdam, Netherlands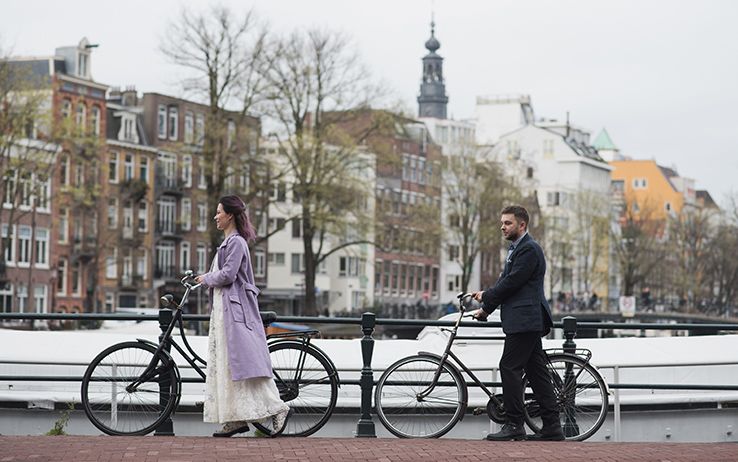 Amsterdam is that spot where you can go crazy for a day, even if it's Valentine's Day. Do you want to update your statuses for one day? Then do a wedding photoshoot. For the fair price, starting at 75€, you get the whole experience: the dress, the suit, and of course the bouquet coupled with the white veil. You and your significant other might find this experience incredibly fun.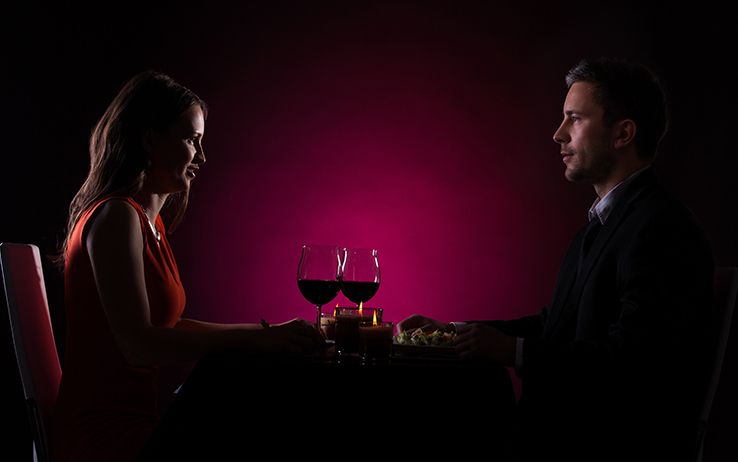 If playing a wedding even for a day seems too wild for you, take a boat cruise by Amsterdam's multiple canals and enjoy the splendid views of the city. Diversify the leisure time with a dinner in the dark provided by CTaste Restaurant, or visit one of the myriads of cafes serving the most luxurious teas.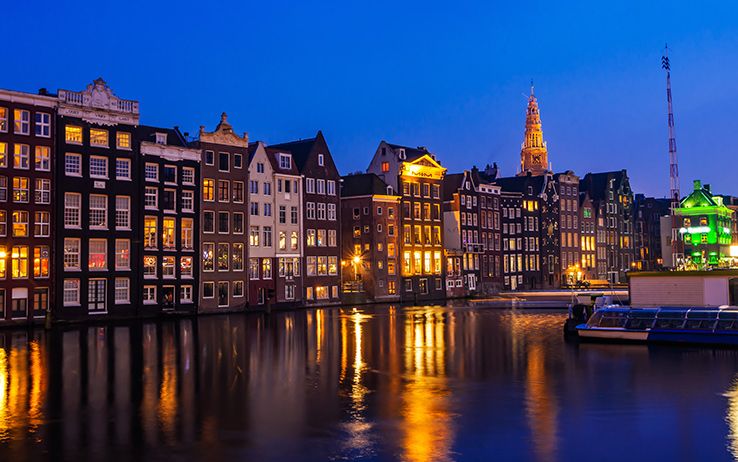 16. Sydney, Australia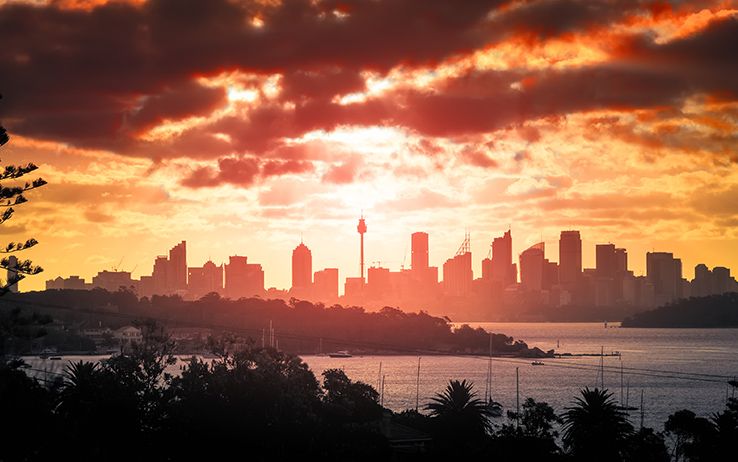 Taking Valentine's Day Trips to Sydney is undeniably one of the best choices that couples can make. Sydney has it all for a romantic and marvelous experience. Start the day by exploring the city from the birds' view by drifting the friendly skies on a hot air balloon. Also, try catching the blissful sunrise as the city looks completely different when it is bathed in the first beams of the sun.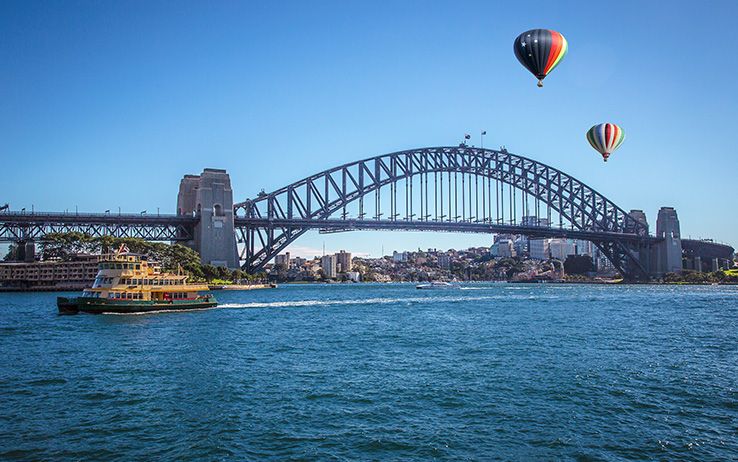 Complete the day with a cruise on Sydney Harbour. The boats with transparent walls were perfectly constructed to provide a 360० view around the harbor. Dine out on it to end this special day gracefully.
17. Delhi, India
If you are in Delhi on Valentine's Day with beau and want to raise a toast for your love in an exceptional place, we are here to provide you with some ideas. Cherie Restaurant is considered one of the most romantic places in Delhi, especially for couples on Valentine's Day. In case you want to create an idyllic setting for your lover, Cherie's cozy, mystic, and somewhat antique aura will fit the context perfectly.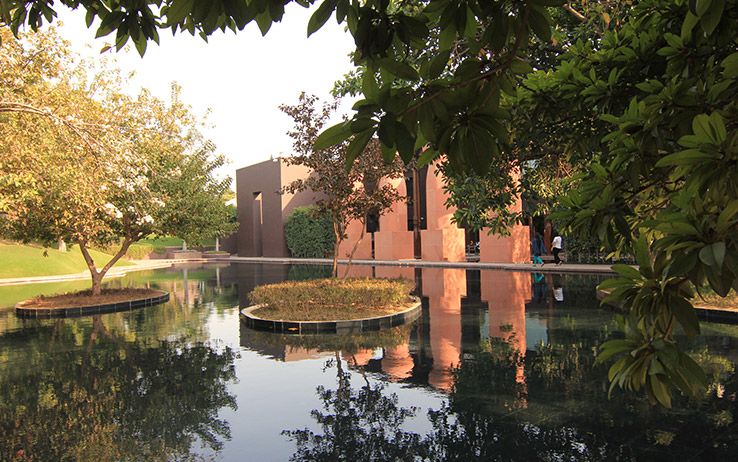 If you are more about the view, Kiyan at The Roseate, reveals an incredible sky view and an atmospheric ambiance at night while stars and candles lit your grateful and in-love faces.
18. Genoa, Italy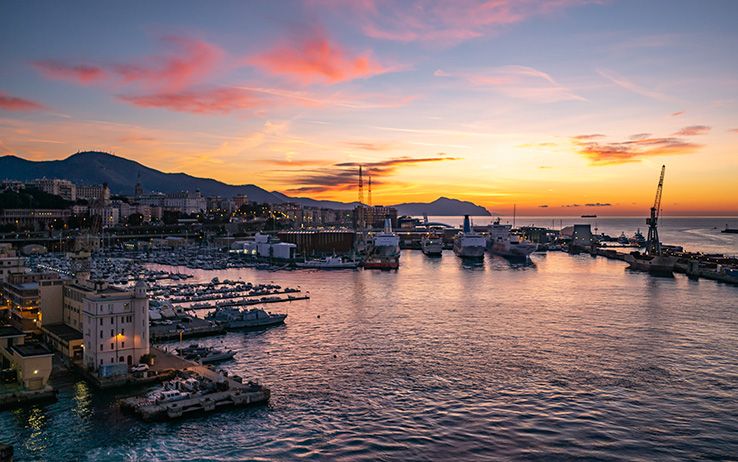 Valentine's Day might be the perfect time to celebrate your love by setting an emotional and sensual dinner. If it happens to be around Genoa on Valentine's Day, you have a great chance to have an incredible dining experience. Take your sweetheart to one of the most unique restaurants located beneath the sea surface.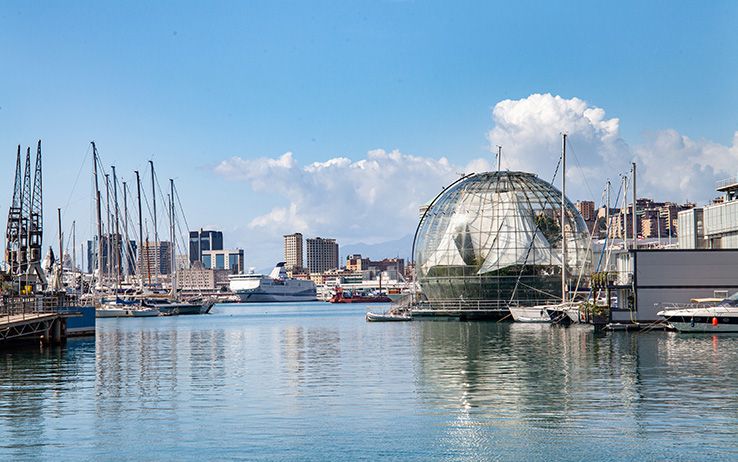 Genoa Aquarium guest couples on Valentine's Day willing to have a completely different experience. Perhaps it might be so since you are set to spend the evening in the company of unique species of fish and other sea creatures.
19. Santorini, Greece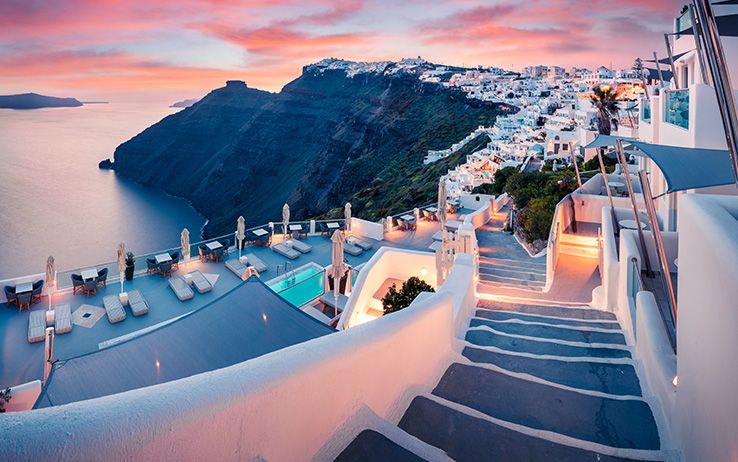 Book a luxurious room to set the mood for the whole trip to Santorini. You probably saw multiple Insta posts about this marvelous place. That's because it is one of the most romantic resorts for couples and among some of the most idyllic destinations for Valentine's Day.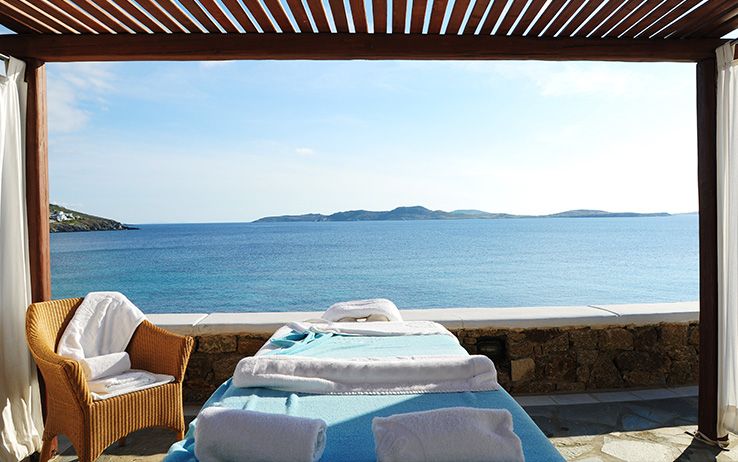 Santo Maris Oia Luxury Suites & Spa serves as one of the best accommodations on the island and part of the best spa destinations at the same time. It also reveals an extraordinary view of the seaside.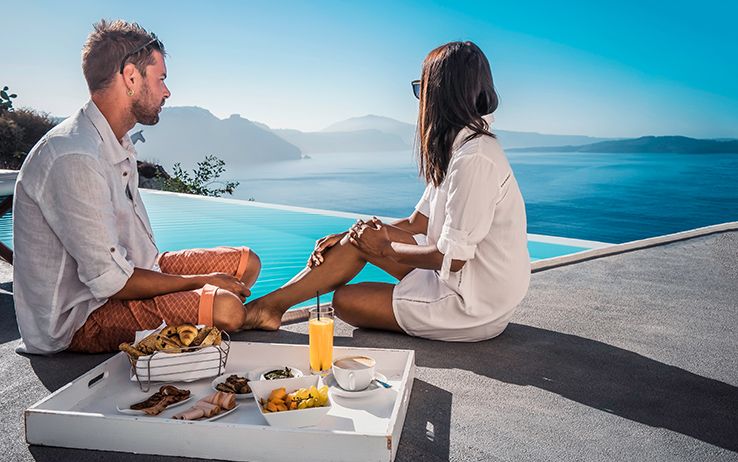 Have a relaxing time with your beau, spend the most amazing morning and top the experience with an extravagant dinner at one of the multiple restaurants you can find on Santorini.
20. Zanzibar, Tanzania
Tanzania can be the most astonishing romantic retreat for couples willing to take in the beauty of Africa. The romanticism is expressed by the most gorgeous looking sunset and the spectacular views that are revealed all over this incredible place.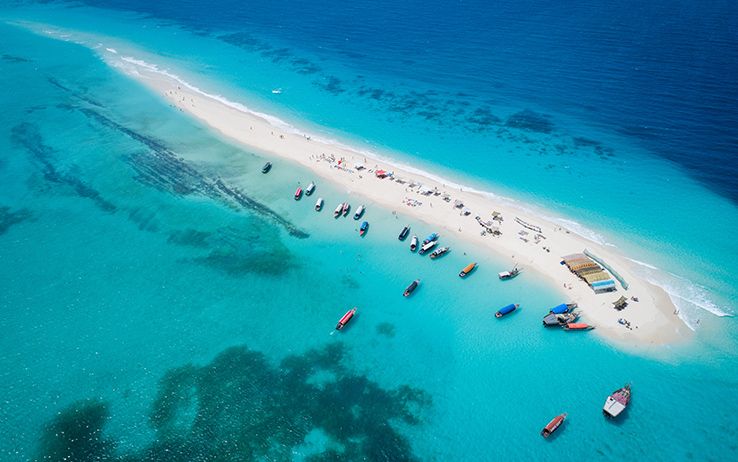 To arrange a splendid leisure time with your beau, surprise her/him with a trip to Zanzibar's most charming beach - the Nakupenda Beach. The flawless beauty of this white-sanded beach and turquoise waters will create the perfect ambiance to celebrate the love between you two.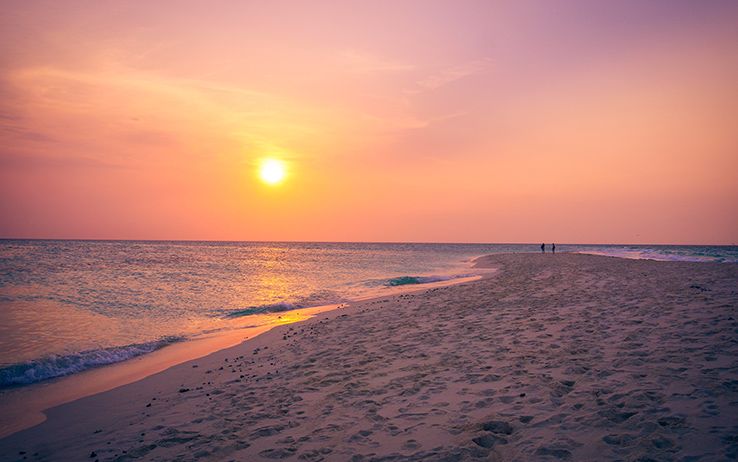 Taste the sea delicacies on the beach, spend the whole day by taking in the sun, get submerged in the crystal-clear water and build some of the most vivid memories about Valentine's Day with your significant other.
---
Valentine's Day is a celebration of two special people, you and the passion of your heart. This beautiful feeling has to be praised in the best way possible hence, spoil yourself with some exclusive retreats, awe-inspiring getaways, and the most bewildering trips to some of the most romantic destinations on the planet.
To start the trips with the right foot, book Business Air Tickets or First Class International Flights to really spoil your lover and yourself with a luxurious flight. Taking flights in top classes is worth the splurge since it can set the mood for the whole romantic experience.
Travel the world with your significant other, experience new feelings, express your genuine feelings to your lover in the most romantic way, and enjoy every single moment you spend with him/her in the most captivating places.