Flying in business class or first class seats is the dream of many air travelers. Those who can afford tickets in such opulent seats are the lucky ones, as you may think. Unfortunately, the prices are high indeed. Nonetheless, if you have the opportunity to fly first or business class, you may want to know what you are going to pay for.
Whatever flying class you'd choose, you'd probably pick the best air carrier in the industry, since those might be the choice of many other air travelers. That's why keeping a sharp eye on the airlines' ratings, facilities, and amenities is key to a convenient and rewarding flight. Airflyby Team, eventually, is going to show you the best-rated airlines for business and first-class flights, to give you the chance to pamper yourself as you would in your dreams.  
First things first - The seat configuration in business and first-class depends on the type of aircraft. Different aircraft models of the same airline might provide different seat configurations. So, here is the first tip: pay attention to the aircraft models since the seat configuration may differ.
Flying First Class Internationally
1. Singapore Airlines A380 First Class Suite
Here's a closer look at the Singapore Airlines' 777 First Class suite as well. No matter which aircraft operates your flight, you get an astonishing experience in first class with Singapore Airlines.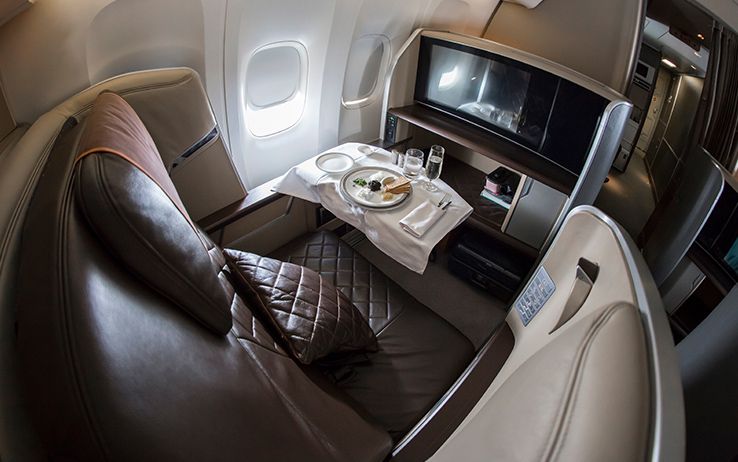 With spacious 35" wide full-grain leather seats that extend to 80" will keep you relaxed and comfortable no matter how long your flight will take. Besides a private suite that gives you the opportunity to be entertained during the flight and step out of the aircraft refreshed, you will get an excellent dining experience, prepared with much attention by notable chefs.
2. Qantas A380 First Class Seat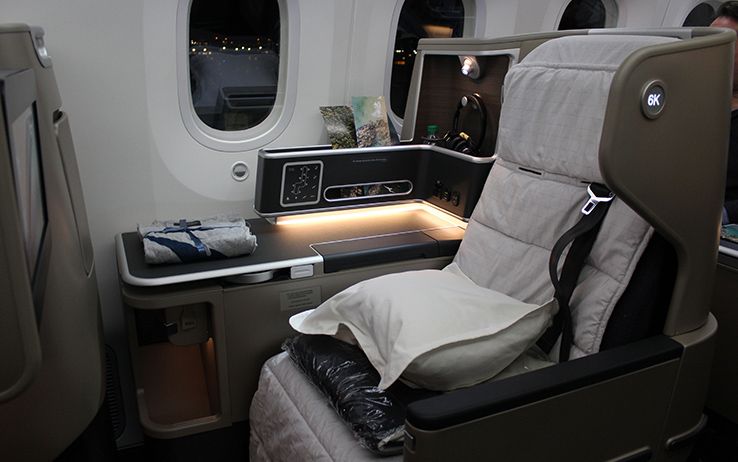 Here's how a First Class flight experience on Qantas looks like!
Subtle colors of the armchairs onboard Qantas aircraft create a serene atmosphere. To make you feel at home, there is a built-in massage function, in-flight entertainment, and enough room for two passengers to dine together. The 83.5-inch extensible armchair will also provide you with healthy and peaceful sleep. Additionally, the Sheridan bedding, memory foam mattress, and pillow menu will help you to fall asleep faster, and wake up feeling revitalized.
3. Qatar Airways A380 First Class Seat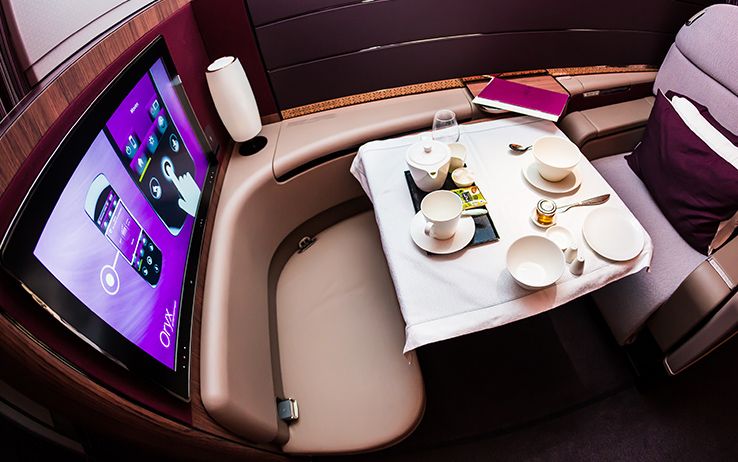 When flying first class with Qatar Airways, you get an unforgettable experience or at least a wonderful one. As the key characteristics of first-class seats that every air passenger seeks are comfort and privacy, Qatar Airways has been working on that. Thus, you get the much-wanted privacy, a wide and comfortable seat that is extendable, so you can take a nap. In addition to that, the luxurious Frette linen and a duvet will create the perfect environment to get some rest.
4. Air France B777-300ER La Première cabin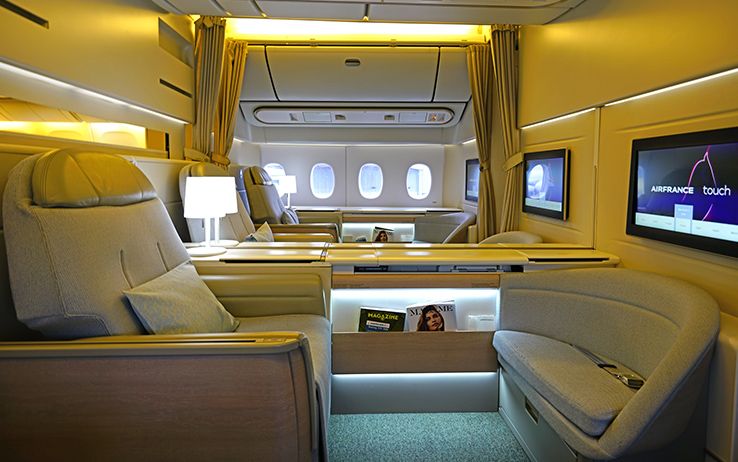 Who says you can't have a nice sleep aboard a plane? La Première cabin offers a 30-inch seat that is easily transformed into a full-sized 6.5ft bed. It also goes with a memory foam mattress, a pillow, and a duvet for your comfort. To keep you entertained, there is a 24-inch display on which are shown movies, games, TV shows, and music worth 1,000 hours of on-demand entertainment.
5. British Airways 787-9 Dreamliner First Class Seat
With British Airways' first-class seats, you have both working and resting opportunities. If privacy is your requirement, then 787-9 Dreamliner Craft should be your choice, since there are only 8 first-class seats. The fully flat 6ft 6in long bed that goes with a microfibre mattress topper and 400 thread count bedding will also add to your comfort.
6. Etihad A380 First Class Apartment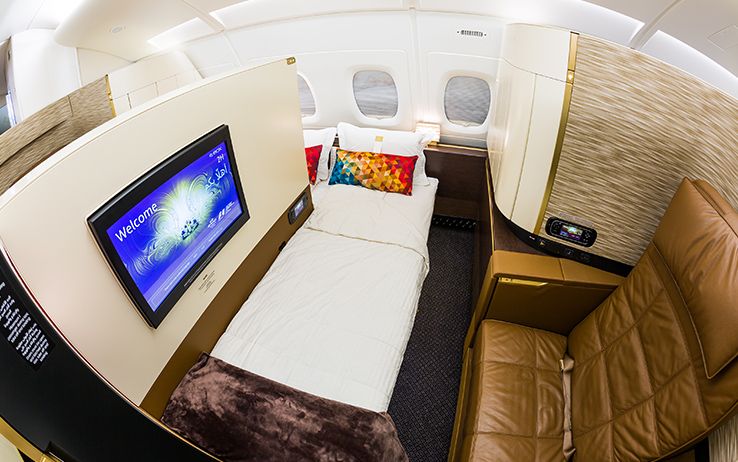 One of the best seat layouts in the industry made Etihad Airways call their first-class seats, apartments. You won't get bothered by others since you can close the door by sliding it and get some quality rest. If you choose to stay awake, the touch screen display will provide you with Wi-Fi, 100 hours of music, movies, TV shows, and many more. Additionally, comfortable leather seats are converted to fully flat 6ft 10in long beds.
7. Emirates B777-300ER First Class Suite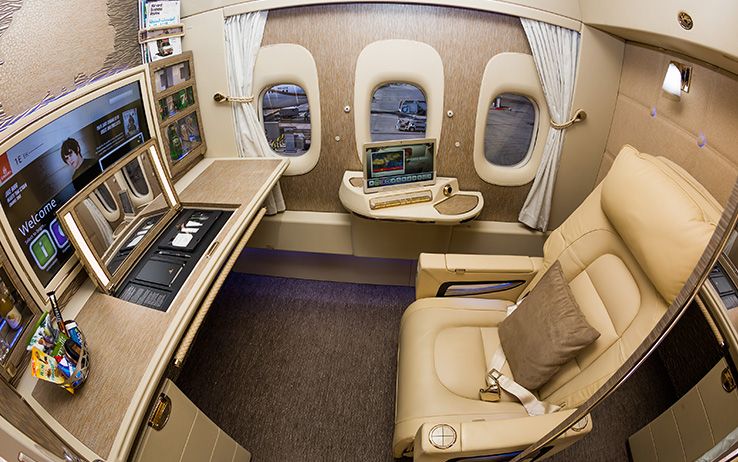 The floor-to-ceiling doors will provide you with an intimate atmosphere, but the exquisite design of the suite will make you feel like a royal, whether you are dining, working, watching a movie, or sleeping. Since Mercedes-Benz has been working with Emirates on the design, you can expect a top-notch experience.
8. Japan Airlines B777-300ER First Class Seat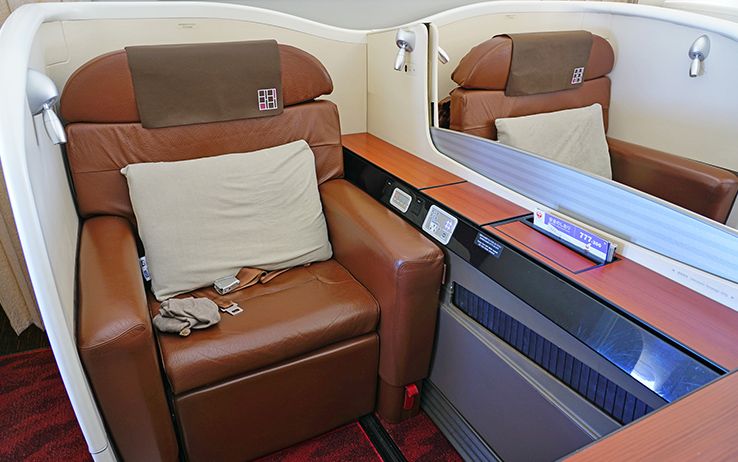 Both a functional and a comfortable suite that Japan Airlines is providing to their passengers, matches the Japanese culture, their deep morals and values. Inflight facilities are various and include adjustable pillow, convertible seat (Bed maximum dimensions: 33x78"),  23-inch display, retractable privacy partition, and generous storage compartments.  
9. Oman Air B787-9 First Class Suite
There is enough room to stay relaxed and not to be bothered by other air passengers aboard the Oman Air B787-9 aircraft. The 25.5-inch wide seat that is convertible to a fully-sized bed that measures 87" long, will add to your comfort and privacy. But the 25-inch display will keep you from getting bored.
10. Cathay Pacific B777-300ER First Class Seat
When flying first class with Cathay Pacific, you get a spacious seat with built-in massage, luxurious Bamford bedding for lavish sleep, a great working opportunity thanks to various electronics and Wi-Fi, Bamford amenity kit, and many more other facilities.
11. Lufthansa A380 First Class Seat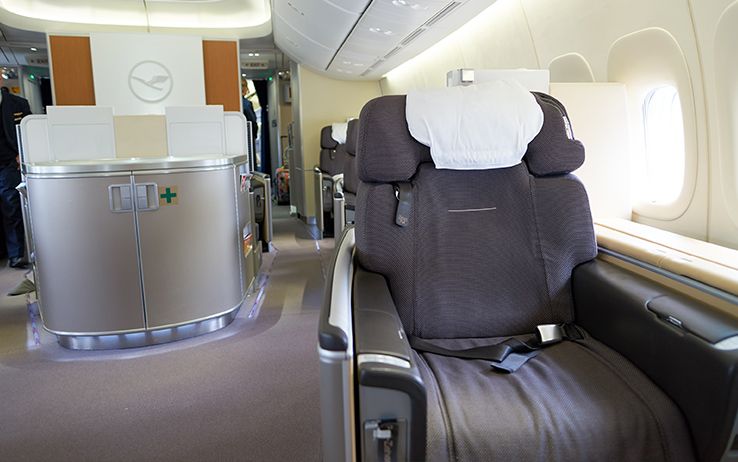 First class in Lufthansa in action. The quality of materials and the refinement of the finishes are screaming luxury.
The highest levels of comfort can be attained in the first class of Lufthansa Airlines, thanks to the ergonomic seats that the aircraft is equipped with. These are also adjustable and can be transformed into a 79-inch flat bed. You will also be provided with a temperature-regulating duvet to match your comfort levels.
12. ANA B777-300ER First Class Seat
You can enjoy the personal space and feel refreshed once in first-class seats since ANA provides only 8 seats per first class. The suite features doors to give every passenger a high level of privacy. There's also a movable partition, a large desk, plenty of compartments, power outlets and other electronics, a 43-inch 4K monitor, and convertible seats.
13. Korean Air A380 First Class Kosmo Suite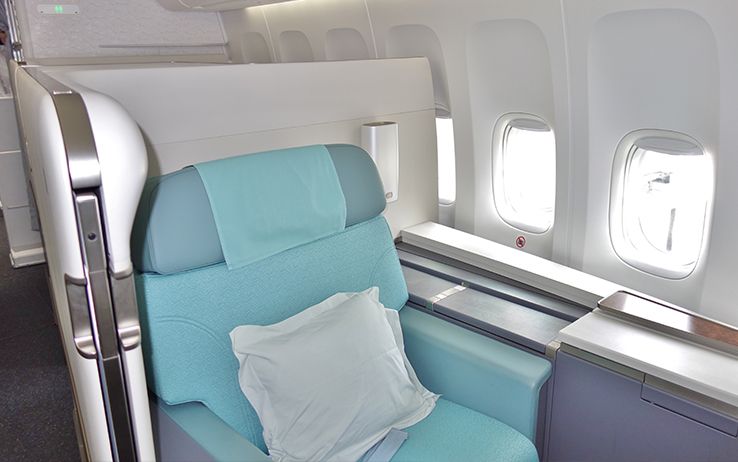 Look at the space you get! The large seat is a guarantee of a relaxed and cozy air journey.
Here's a closer look at the seat you get, and other facilities Korean Air is providing to their customers.
The 26.5-inch wide seat transformable into a 180° flat bed that measures 79" long is a guarantee of a relaxing flight. On top of that, the seat is fully adjustable to your liking. What's for the inflight entertainment, Kosmo Suite offers a 23-inch LCD display to watch whatever you want, and Bose headphones for a quality audio while you listen to your favorite music.  
14. Saudi Arabian Airlines B777-368ER First Class Seat
The first class on Saudi Arabian Airlines features 23.8" wide seats that are converted to 80" long fully flat beds, high-tech entertainment facilities, including a 23-inch display, 40 stations of video, 12 audio stations, and games, as well as, great working opportunities.
15. China Southern Airlines A380 First Class Platinum Private Suite
Here's what you get. A 33-inch wide seat that is transformed into an 80-inch long fully flat bed, maximum intimacy thanks to the closing doors, electronically adjustable seats, a 23" screen, and a private storage cabinet, secured with a password lock.
16. Swiss B777-300ER First Class Cabin
You can pamper yourself with a lavish first-class flight with SWISS as you get plenty of inflight and on-ground amenities and facilities. Among them are listed: amenity kit with La Prairie products, elegant design with comfortable ottoman and table for dining even for two persons, wide seat that is transformed into a perfect horizontal bed, and extra class service.
17. Thai Airways A380 First Class Seat
Thai First Class offers plenty of facilities and amenities. Not to say how comfortable the seat is.
That seat looks comfortable! We suggest you to share with your pics from your first or business class plane ride in the comment section below.
The first class in Thai Airways' aircraft are truly spectacular. Contemporary design with Thai motifs, a calming color palette, and a spacious semi-private suite is a guarantee of wonderful flight experience. What's more, the 21-inch wide seat that is transformed into a real 7ft long bed is going to help you get rested while drifting the friendly skies.
Save on Airfares in Business and First Class
Save on Airfares in Business and First Class
Get a Quote
Flying Business Class Internationally
1. Hong Kong Airlines A350-900 Business Class Seat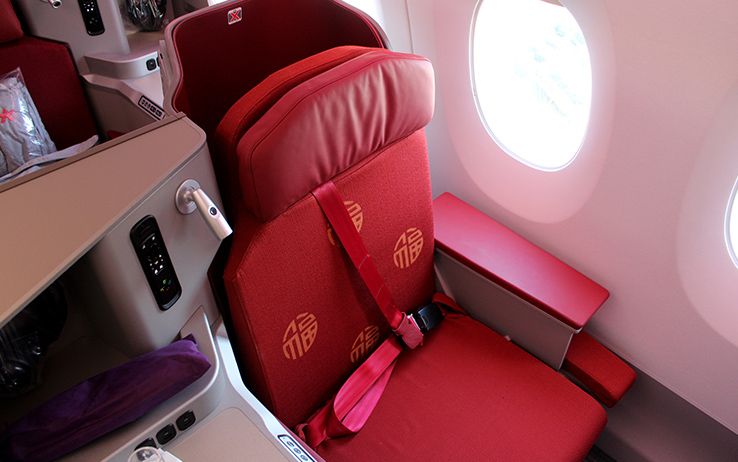 Business class perks:
23" wide seat;
76" long 180° flat bed;
44" seat pitch;
Elegant and practical design;
Exquisite amenity kit for destinations like USA, Canada, New Zealand & Australia - Hong Kong;
Gourmet dining and others.
2. WestJet 787 Dreamliner Business Class Seat
Business class perks:
46" seat pitch;
22" wide seat;
Fully flat seat accompanied by blankets and pillows;
18.5" wide screen and various entertainments;
Premium amenity kit;
Exquisite wines and various meals, and many more.
3. Malaysia A330 Business Class Seat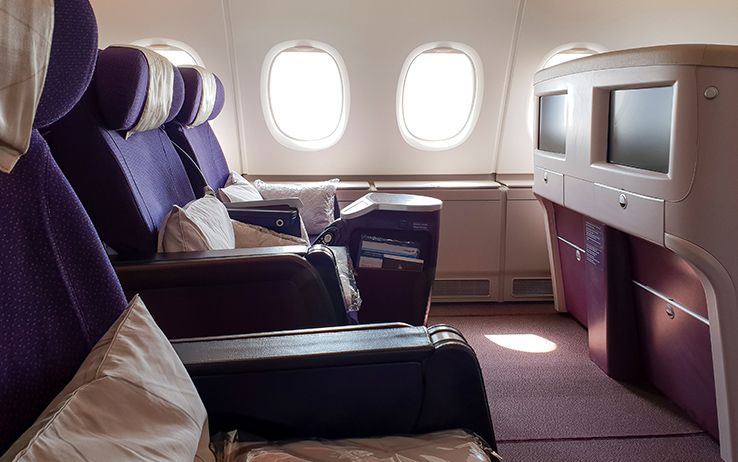 Business class perks:
20" wide seat;
78" long 180° flat bed;
Fully adjustable seat;
Generous storage compartment;
16" wide screen;
Gourmet cuisine;
An award winning service and others.
4. Virgin Australia B777-300ER Business Class Seat
Business class perks:
Private suite;
80" fully flat bed;
18" wide screen;
A bar for 10 guests;
A La Carte cuisine;
500 hours of entertainment;
a Mandarina Duck amenity kit and REN Skincare products.
5. Hainan Airlines 787 Business Class Seat ("Dream Feather")
Business class perks:
A 1-2-1 reverse herringbone seat configuration;
22.5'' wide seat;
38'' seat pitch;
78" long 180° flat bed;
5 storage areas;
18" wide screen;
19x17" dining table, and other amenities.
6. Austrian Airlines 777-200ER Business Class Seat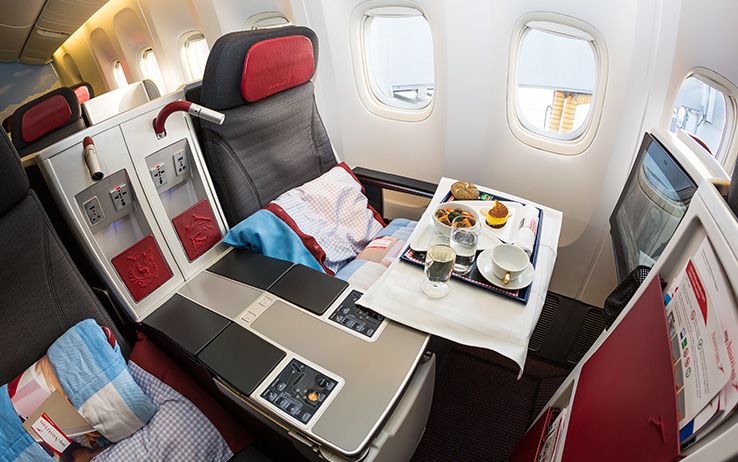 Business class perks:
24'' wide seat;
6ft long 180° flat bed;
Delicious menu by Do&Co (Austian famous gourmet catering company);
15" wide screen;
350 hours of entertainment;
10 most popular Austrian coffee specialties.
7. Air Canada 777-300ER Business Class Seat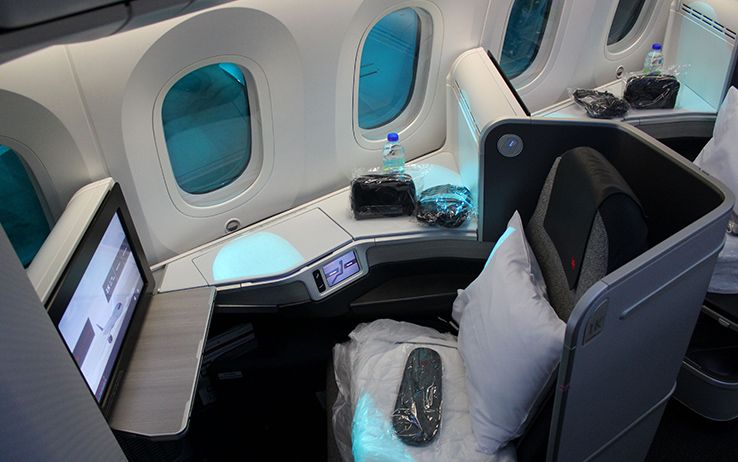 If you've been wondering how first class in Air Canada looks like, here's a peek. As you can see, business class keeps up with first class.
Business class perks:
1000+ hours of entertainment;
Adjustable head and footrests;
Fair amount of privacy;
18" touchscreen display;
Fully flat bed.
8. KLM 787 Business Class Seat
Business class perks:
78-81" long flat extendable seat;
16-18" wide screen;
Comfort kit designed by Dutch designer Jan Taminiau;
Direct aisle access.
9. Asiana A380 Business Class Seat
Business class perks:
22" wide seat;
32" wide display;
Automatic seat control;
Fully flat convertible seat;
Gourmet meal service;
Various types of teas.
First class seats seem wonderful in Asiana. Plenty of space, comfortable seats, and a pleasant color palette.
---
Business and First Class Domestic Flights
It is obvious why many air travelers chose to take business or first-class international flights, but are domestic flights within the US worth the splurge? Read on, and find out the perks of flying business class or first class domestically on the best-rated airlines.
1. Hawaiian Airlines A330 First Class Seat
Also called "Premium Cabin," Hawaiian's first-class seats are designed with Hawaiian motifs in mind to be both practical and stylish. A generous amount of space, a transformable seat to a 76" long fully flat bed, and in-seat power outlets will make your flight productive, relaxed, and fairly enjoyable. Also, the comfortable seat goes with entertainment options, world-class cuisine, and a premium service that will make your flight experience more pleasant.
2. Alaska Airlines 737-900 First Class Seat
The Recaro leather seats that are reclinable will offer a cozy feel, but the built-in power outlets and a 40" pitch will make your flight more productive if you wish to work or just stay relaxed.
3. Delta 757-200 First Class Seat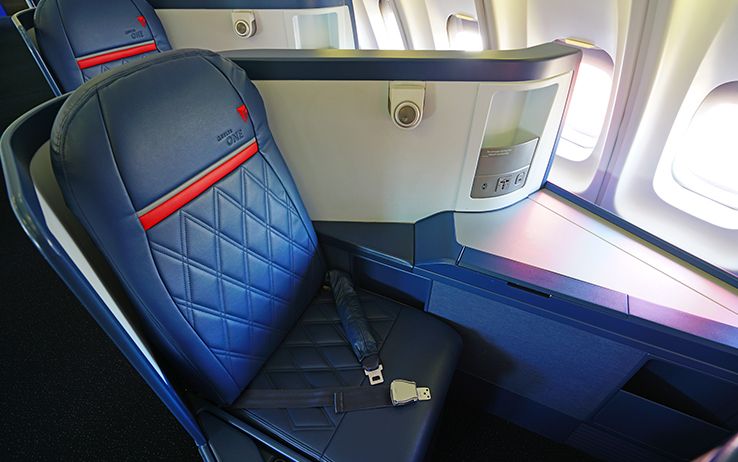 Though it seems like there's not so much space, air passengers can perform various activities while in their first class seats.
Each mile above the ground will be spent in a spacious seat that reclines to up to 8" and has an adjustable headrest. You won't get bored since you can be entertained by an 11" wide display that features movies, games, and TV shows. The seat also features power outlets, so you can keep your devices charged.
4. American Airlines 777-300ER Business Class Seat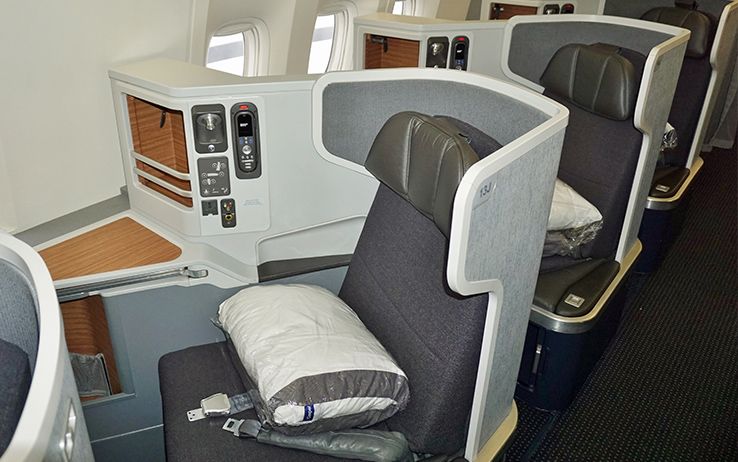 When taking domestic flights in business class with AA's Boeing 777-300ER aircraft, you get plenty of perks that include a 20.5" wide seat, a lie-flat construction, and wireless entertainment featuring AA app.
5. JetBlue A321 Mint Business Class Seat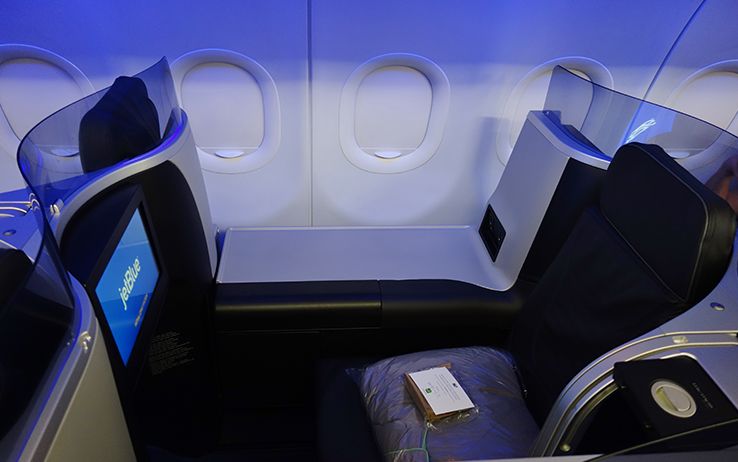 Winning the 2019 Travelers' Choice in Tripadvisor's rating, JetBlue A321 Mint business class seats spark with comfort, luxury, and effectiveness even on domestic flights. The seats feature a lie-flat construction that measures 6ft 8 inches, an adjustable firmness of the cushions, built-in massage, delicious menu, 15" personal display with plenty of entertainment options, and top-notch service.  
6. United Airlines 777-300ER Business Class Seat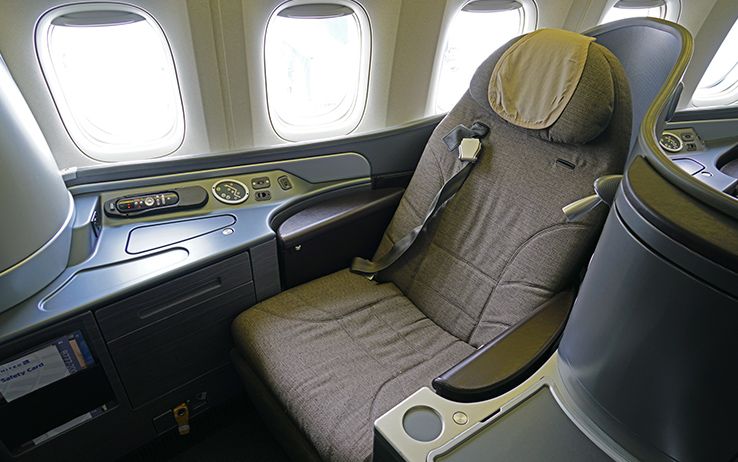 Business-class seats in the United 777 aircraft provide much-needed relaxation, comfort, and a high grade of privacy. The wonderfully designed cabin features a 16" touchscreen display for your entertainment, an exclusive amenity kit, and enough space to work, enjoy a movie, or sleep.
---
Final Thoughts on Business and First-Class Domestic and International Flights on the Best-Rated Airlines
Depending on your requirements, destination, and priorities, you can choose either first class or business class for your flight. Since the Airflyby Team researched the topic, we can state that in some cases business class is more welcome to be chosen than first class, but it all depends on the airline.
These are the most trusted, award-winning airlines that provide business and first-class seats. Hopefully, the above-listed perks and pictures will help you make the right choice for you. We wish you an enjoyable trip that is worth the splurge!
Last Updated on January 28, 2020.