Note: The cherry blossom forecast has been updated. Please, check the new aproximate dates of first and full bloom across the entire country.
Important Update: Due to the novel coronavirus outbreak, several attractions got closed for a couple of weeks. Please, check carefully the destination you choose and stay safe!
Cherry blossom trees take a significant place in the Japanese culture, also carrying a powerful symbolism. Hence, symbolizing clouds, the cherry blossom trees are the embodiment of transitory life and the cyclic revival and death of nature, as well as mortality in general. Consequently, Hamani or else said the process of cherry blossom viewing is quite important in the Japanese culture since the fugitive beauty of nature has to be cherished and treasured.
Considering that we've discussed the top 15 brilliant locations to admire sakura blossom in our latest blog post, we decided to reveal some other 10 more that are less common among tourists, but as mesmerizing as the most popular ones.
On account of the fact that cherry blossom bloom times depend on the weather conditions, there was born the term "cherry blossom front," or else said the progress of sakura bloom across Japan. So, you may consider the first bloom and full bloom times before you plan your trip to a certain location in Japan, especially if you are aiming to see cherry trees blooming.
1. Okinawa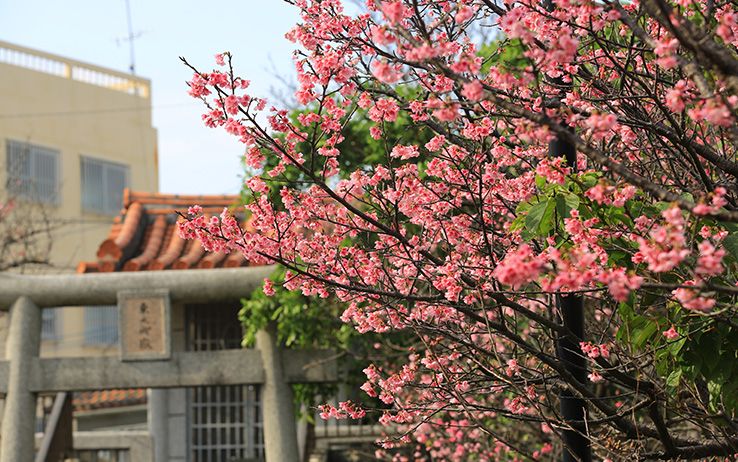 Aproximate Average First Bloom - Late January
Aproximate Average Full Bloom - First Week of February through late February
Though you might be a bit late for the 2020 cherry blossom blooming in Okinawa, there are still chances to get a glimpse at it if you make up your mind really quickly. What's more, the extensive cherry blossom celebrations around Okinawa won't make your trip useless.
For instance, Yogi Park is the exact spot of the Naha Sakura Festival which is held annually, when the sakura is blooming. Over 400 trees are planted across the park's ground, which lets visitors fully admire nature's beauty.  Hurry up, the festival is taking place until February 23rd.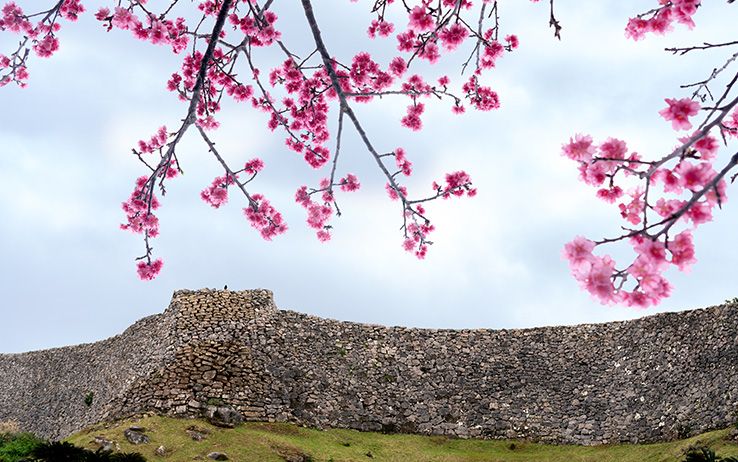 Another well-known and visited spot for cherry blossom viewing in Okinawa is Nakijin Castle. Both a cultural site and a relaxation spot, the castle park provides an incredible opportunity to watch the immaculate beauty of sakura flowers.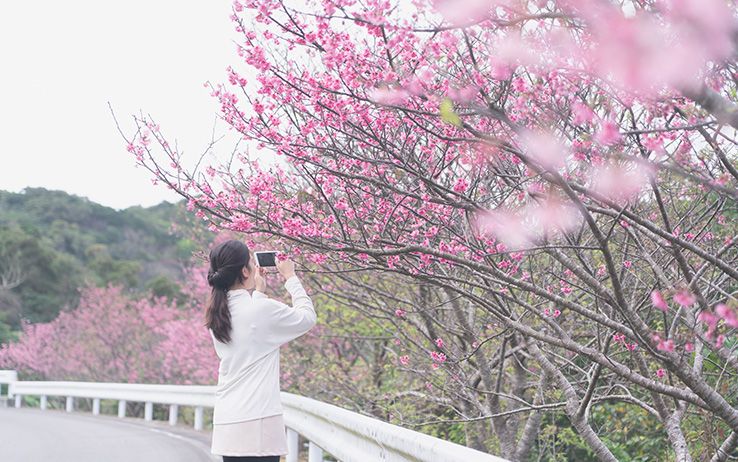 For a real adventure, we recommend hiking from the bottom of Mt. Yae to its summit to discover a breathtaking view with multiple blooming cherry trees sprinkled across its sides. You could also make a stop and take some pictures of the blossoming cherry trees since these are in the right vicinity with the road.
2. Matsuyama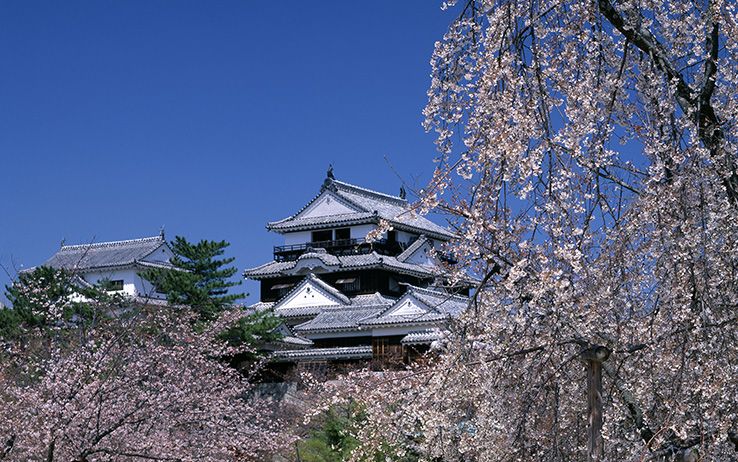 Aproximate Average First Bloom - March 16
Aproximate Average Full Bloom - March 28 - April 5
If you travel across Matsuyama, the first location you may be advised to visit is Matsuyama Castle. No wonder why Matsuyama Castle is one of the best spots in Japan to see sakura bloom but also to absorb a bit from the Japanese culture since it provides a remarkable view on the intact beauty of the structure surrounded by hundreds of cherry trees.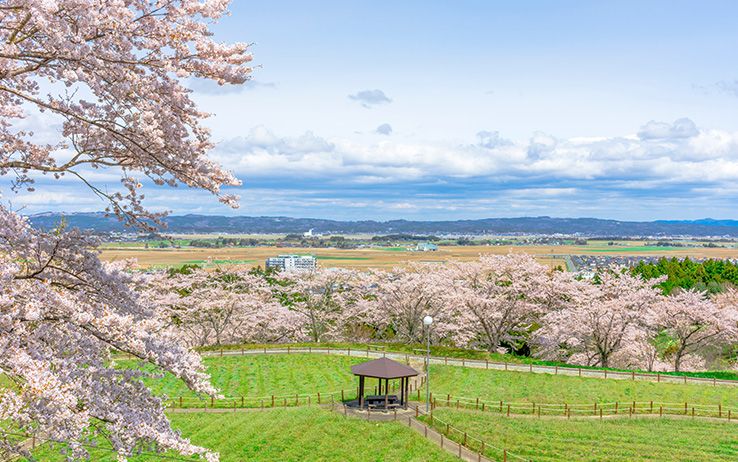 For the next stop, pick the Gohonmaru Park, which reveals a spectacular view and a less crowded place for a perfect relaxing time.
3. Wakayama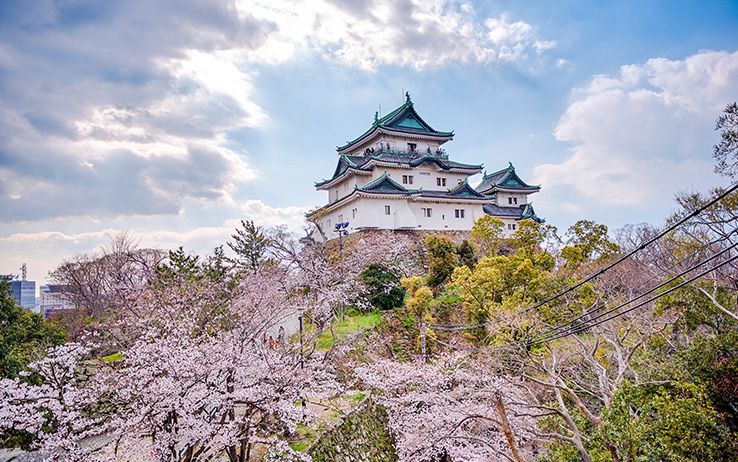 Aproximate Average First Bloom - March 17
Aproximate Average Full Bloom - March 26 - April 3
Japan has plenty of impressive castles from different dynasties, indeed, and Wakayama Castle is one of them. Watch how gorgeous it looks during the day and admire the blooming cherry trees with this brilliant structure in the background. But be truly amazed at the magnificence it displays during the night.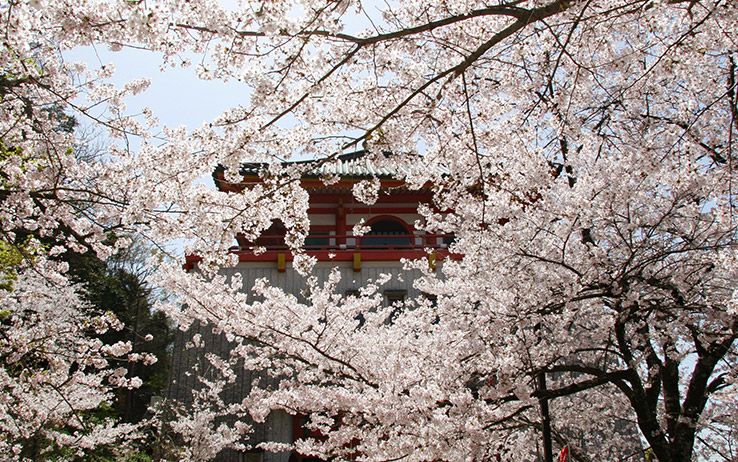 Kimiidera Temple, built more than 1250 years ago, is one of the main spots for locals and tourists willing to discover Japanese history and culture, as well as to catch a glimpse at the magnificent sakura trees.  
4. Kumamoto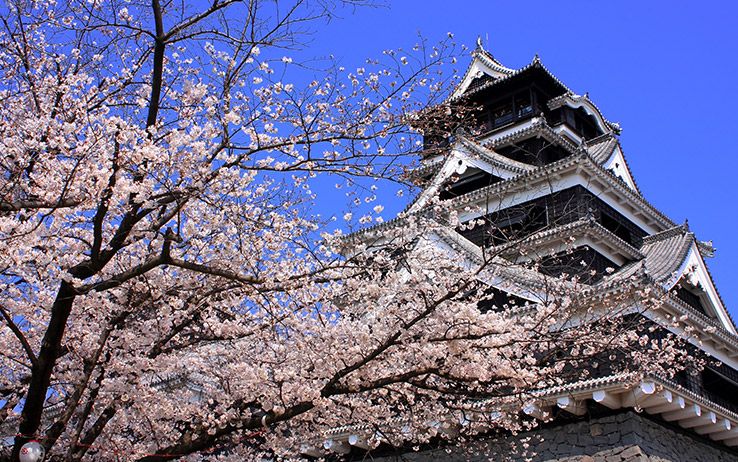 Aproximate Average First Bloom - March 19
Aproximate Average Full Bloom - March 30 - April 7
It's a shame not to include on our list one more astonishing Japanese castle (hint: it's not the last one either) since Kumamoto Castle is absolutely awe-inspiring. Its vast grounds accommodate more than 1,000 cherry trees, spectacular scapes, and lots of space for you to walk. Hence you'll be able to get lost inside of it and explore its every corner as it is absolutely worth it.

None of the locations on our list can be compared to Suizenji Koen with cherry blossom full bloom trees spreading across its grounds. This picturesque spot combines lush greenery, romantic ponds with fishes drifting inside them, and a myriad of winding paved paths.
5. Shizuoka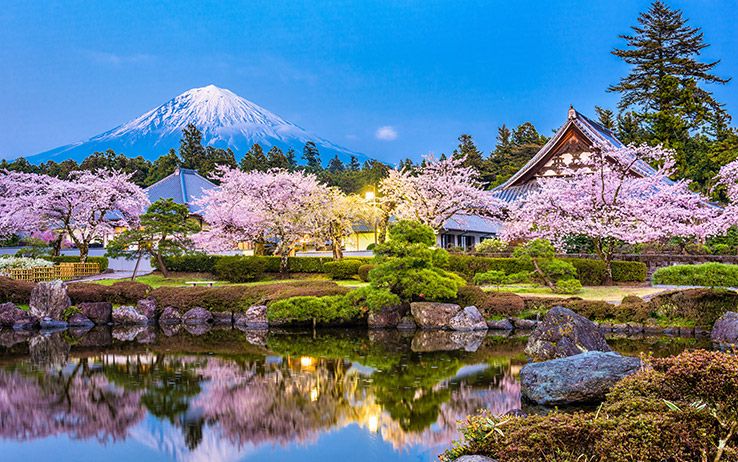 Aproximate Average First Bloom - March 21
Aproximate Average Full Bloom - March 31 - April 8
Shizuoka is an idyllic location, perfect for those traveling for pleasure. Our recommendation is Fujinomiya, where an incredible view upon multiple temples and a myriad of spring cherry blossom trees with Mt. Fuji in the background is revealed.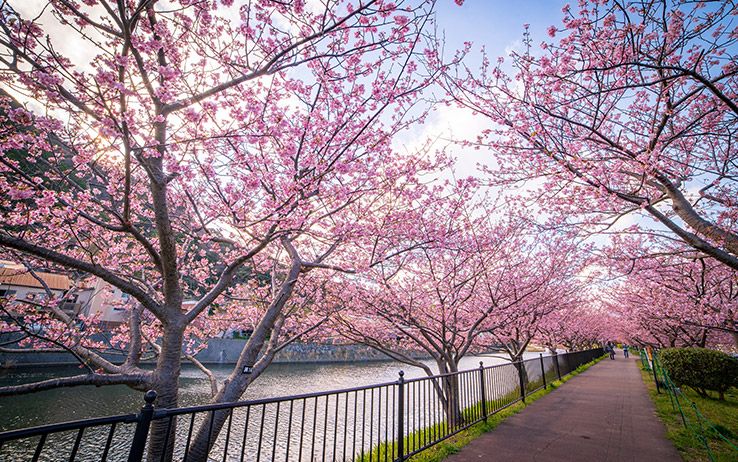 Kawazu Town hints at some special spots for tourists and locals to watch sakura blossoming. Take a walk underneath the rosy tunnel, stop by a cherry blossom tree in full bloom, and take in the sun rays, which will warm up your body and your soul.
6. Kagoshima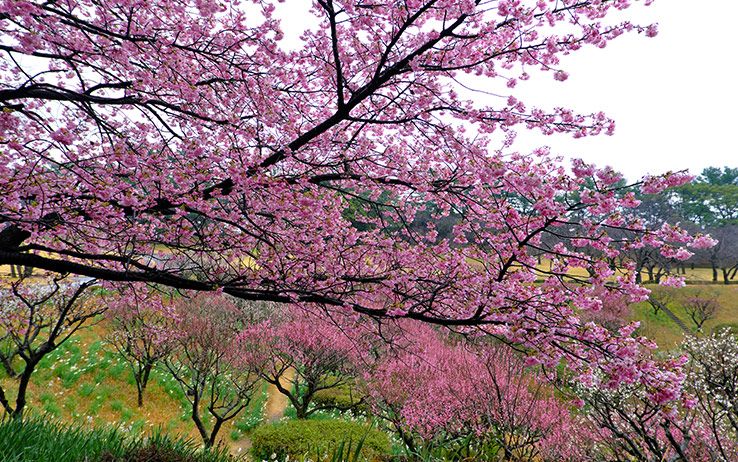 Aproximate Average First Bloom - March 26
Aproximate Average Full Bloom - April 5 - 12
Have a peaceful stroll through the Senganen Garden, a cherry blossom garden that was built in 1658 and kept the traditional Japanese vibe to this day. Gasp at the impressive architectural structures and the Sakurajima volcano in the distance and get inspired by the beautiful cherry blossom trees, which go so well per ensemble with the other elements of the garden.
The next spot is Yoshino Park, which strikes with a unique scape and a vast number of cherry trees. If you come here during the cherry blossom season, you won't be discouraged since over 800 Japanese cherry blossom trees will let you admire their beauty.
7. Niigata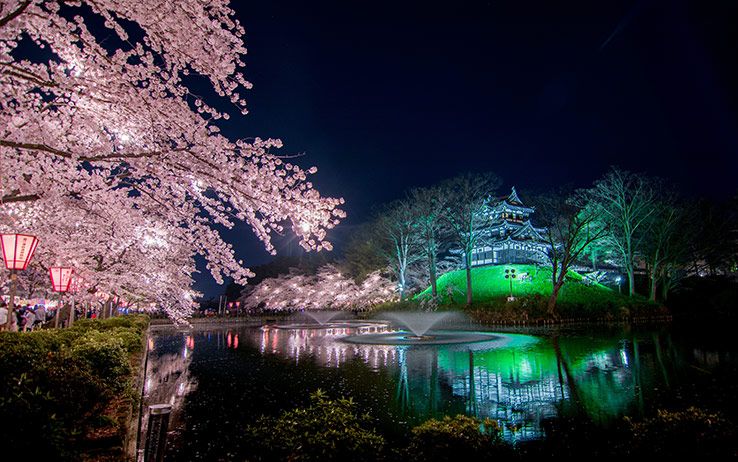 Aproximate Average First Bloom - March 27
Aproximate Average Full Bloom - April 3 - 11
The best spot to admire the blooming cherry blossom trees in Niigata is none other than a castle. Takada Castle's grounds accommodate around 4,000 trees of diverse cherry blossom varieties. Come to Niigata to discover this unique structure that is rather a turret than a castle keep and see it from different aspects during the day and at night when it's lit.
8. Fukushima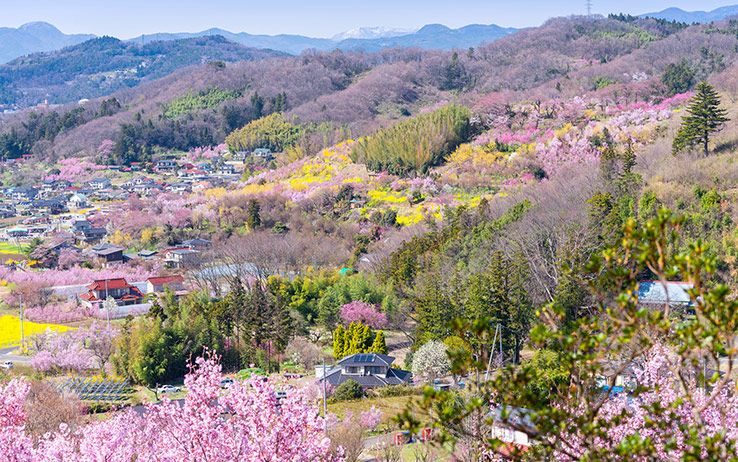 Aproximate Average First Bloom - March 25
Aproximate Average Full Bloom - March 30 - 7
Hanamiyama Park is considered to be one of the best locations during the Hanami festival, and that is not a surprise considering the numerous cherry blossom trees it features, and the cherry blossom varieties you can encounter while you walk through the park. Since there are so many viewpoints and walking trails across the park, you won't be bored by exploring it.
One more outstanding place to watch sakura in bloom is Shinobuyama Park, which is just right for a serene stroll, as well as a cityscape watching opportunity.
9. Akita (Kakunodate)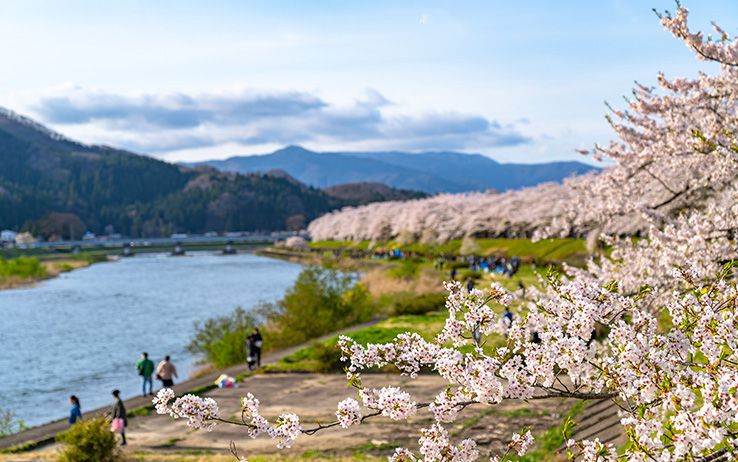 Aproximate Average First Bloom - April 6
Aproximate Average Full Bloom - April 12 - 19
Nothing goes better with pinkish sakura trees than a peacefully flowing river. The exact location that combines both elements is the Hinokinai River, which streams among lush valleys and locates hundreds of cherry trees along its banks.
10. Hakodate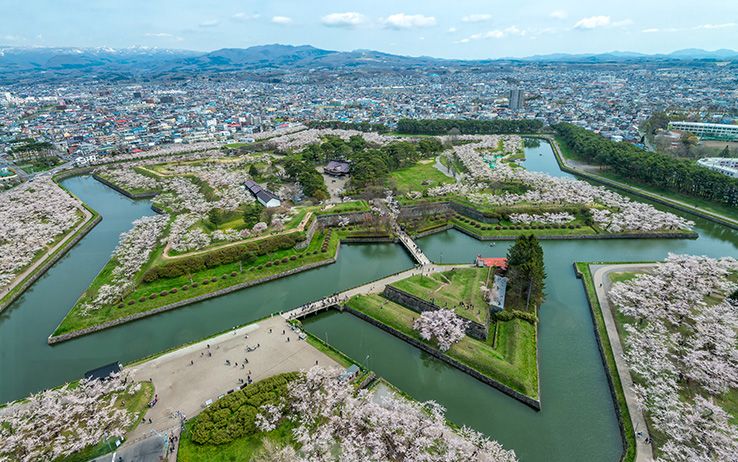 Aproximate Average First Bloom - April 21
Aproximate Average Full Bloom - April 26 - May 3
If you want to be truly amazed by nature and human creation, then take a look at Fort Goryokaku. This star-shaped structure houses more than 1,000 cherry trees along the moats. To see the scape from above the ground head to the Goryokaku Tower and glance out of its observation deck.
You may not want to miss the opportunity to lay down on the ground under a cherry blossom tree in full bloom, hence set out to a local park, entitled Hakodate Park. There you'll be able to find hundreds of cherry trees planted near fountains, children's playgrounds, mini zoom, and multiple walking paths.
---
There you have it, the cherry blossom forecast inclusive of some uncommon location if you want to have some quality time away from immense crowds. We hope we sparked some interest in you to visit some of these locations this spring and gasp at the beauty of the blossoming cherry trees.
Last Updated on March 2, 2020.