Note: The cherry blossom forecast has been updated. Please, check the new aproximate dates of first and full bloom across the entire country.
Important Update: Due to the novel coronavirus outbreak, several attractions got closed for a couple of weeks. Please, check carefully the destination you choose and stay safe!
With the spring approaching really fast, AirflybyTeam prepared a complete piece of info on the cherry blossom season for those traveling to Japan, whether to attend the mesmerizing Hanami Festival or pursue other goals but not to miss the opportunity to get a glimpse at the incredible sakura blossom.
It's not a secret that planning thoroughly the trip is one of the most crucial things you can do to have a successful journey. In sakura bloom's case, you have to be really precise with the timing, hence you may know several things before you proceed traveling to Japan.
First of all, you may choose the time when you are able to travel. Sakura is blooming every year at different times because of the temperature, rain and wind variations. That is happening for every region of the country as well. That means, depending on the region, the bloom may start early in spring or later.
On that account, the second thing you may make up your mind on is the location to choose. As we previously stated, you can catch sakura in bloom in different locations at different times. It fully depends on the weather when and where cherry may start blooming. Therefore, an estimated cherry blossom forecast may help you with planning the trip to Japan.
Read the gathered information below to know what region may suit you the best. Also, take into account the first bloom times and the cherry blossom full bloom times to catch the perfect moment of this incredible natural event.
1. Yokohama
Estimated Average First Bloom - March 14
Estimated Average Full Bloom - March 23 - March 30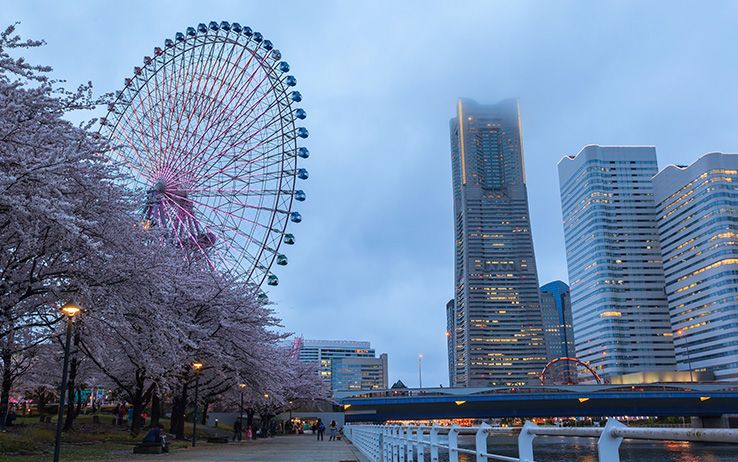 Beautiful sakura adorns both traditional and modern districts of the city when it starts blooming. Whether you pick the mortar and glass buildings or the traditional ones as the backdrop for the brilliant sakura flower bloom, there are plenty of eye-catching spots around Yokohama to fulfill your desire.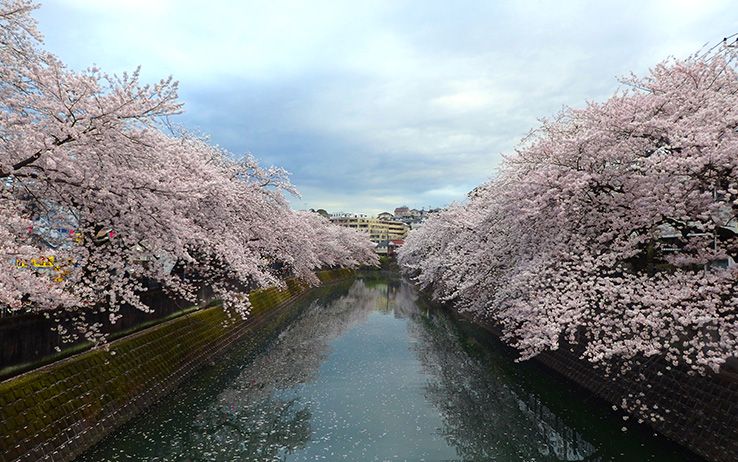 Minato Mirai 21 is one of the spots offering a relaxed atmosphere thanks to the promenade area and the serene but cold futuristic buildings. Nothing goes better with the cherry trees blooming than a quietly flowing river. Combine an amazing leisure time by the water and cherish the splendid view of the blooming cherry trees near the Ookagawa River.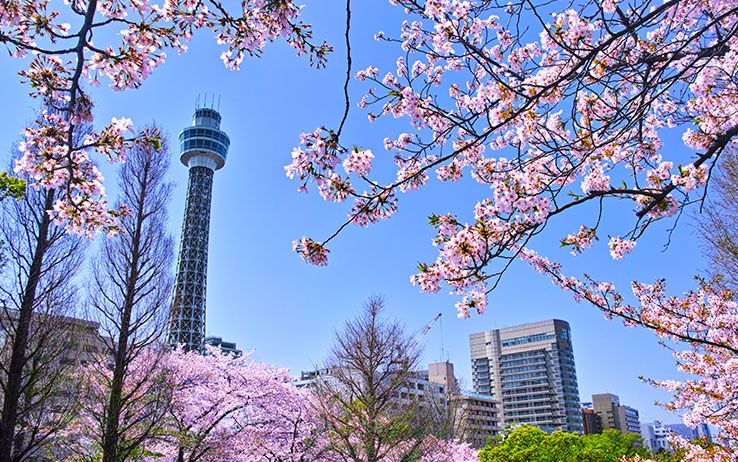 Bring your friends and enjoy the plenitude of the stunning scenery of Kamonyama Park. Or have a lone but pleasant walk through the Yamashita Park to get a glimpse at this natural wonder. Also, you can visit one of the largest cherry blossom gardens, here in Yokohama, the Sankeien Garden, where there are lots of leisure and cultural opportunities.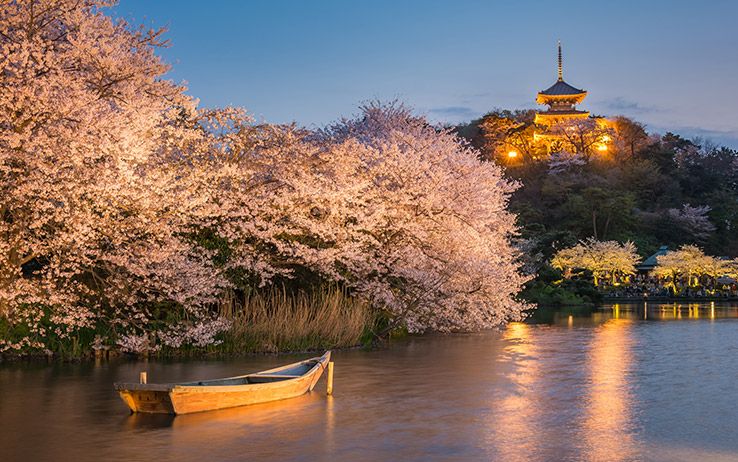 2. Kochi
Estimated Average First Bloom - March 17
Estimated Average Full Bloom - March 26 - April 3
One of the 12 original castles in Japan is located in Kochi and named accordingly - Kochi Castle. You can already tell that it should be an incredible wonder to see sakura blooming with a traditional Japanese castle that is more than 400 years old in the background.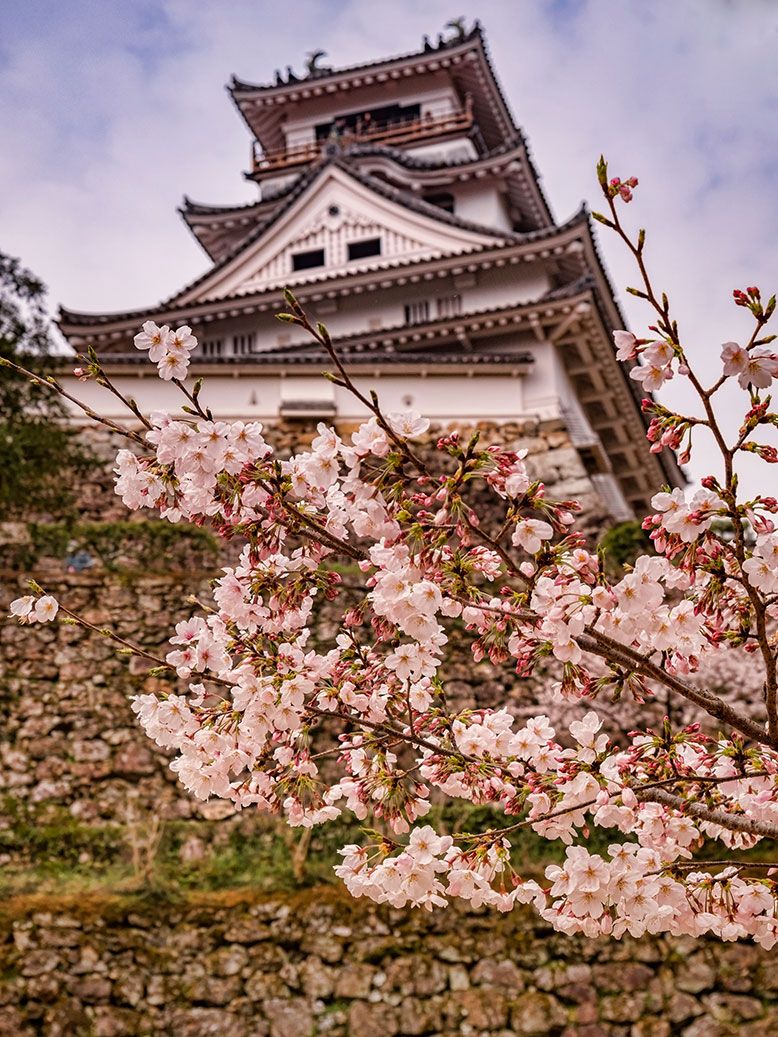 Let the Makino Botanical Garden be the next stop in your itinerary through Kochi. Explore the multitude of cherry blossom varieties and get to know more about the culture of cherry blossom viewing, named as "hanami."
Get a peaceful stroll at the Kagamino Park and absorb the warmth of the radiant sun, as well as the charm of spring cherry blossoms. Also, make a stop under a tree and have a brief picnic with someone of your choice.
3. Kyoto
Estimated Average First Bloom - March 17
Estimated Average Full Bloom - March 25 - April 2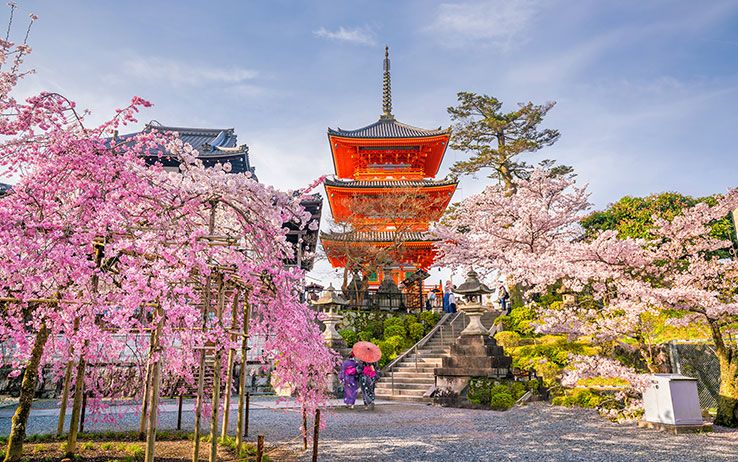 Kiyomizudera Temple is a spectacular opportunity to watch the blooming cherry trees and to combine this activity with the exploration of the breathtaking temple's grounds. Maruyama Park, on the other hand, presents a busy environment with large crowds of people, as well as a myriad of blooming cherry trees. Both of the locations serve as amazing places to take in the Japanese culture and to breathe out of pleasure.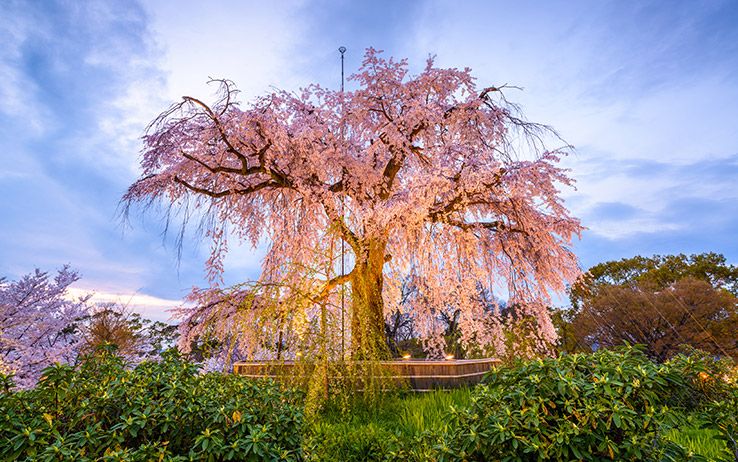 To truly get in touch with the Japanese culture and get a glimpse at the past of this magnificent country, head to the Old Town, located in Higashiyama District. Let splendid blooming cherry blossoms accompany you through your journey and make it more captivating.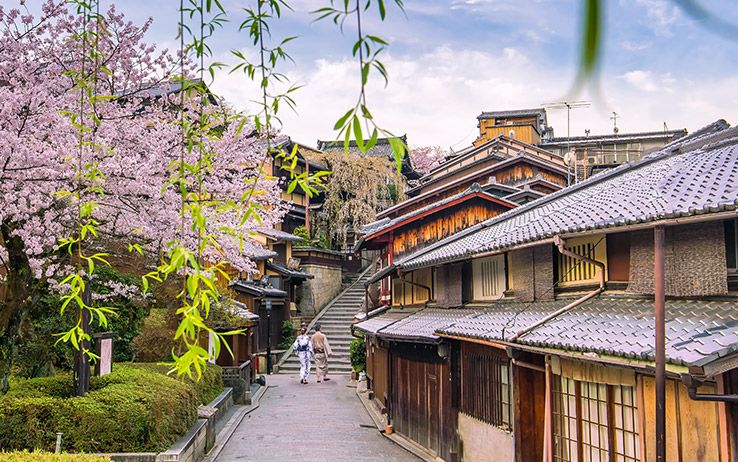 Come to the Hirano Shrine at night to see a wide variety of cherry blossom trees lit. Also, come during the day to have a walk by the shrine and sense the pacifying feeling by marveling at the eternal beauty of sakura flowers.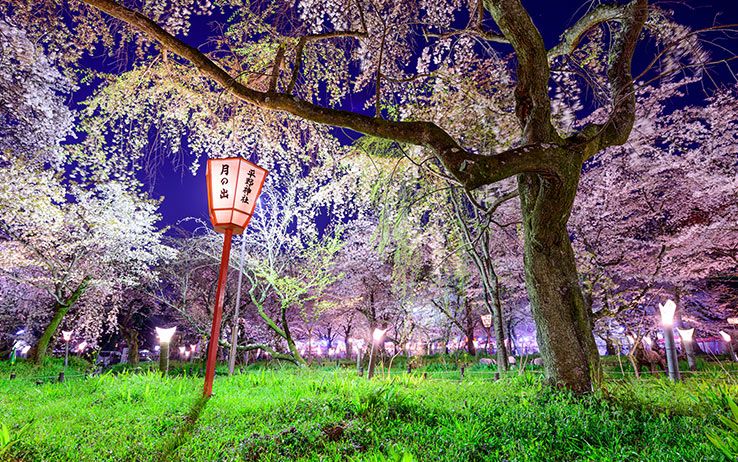 4. Nara
Estimated Average First Bloom - March 16
Estimated Average Full Bloom - March 23 - March 30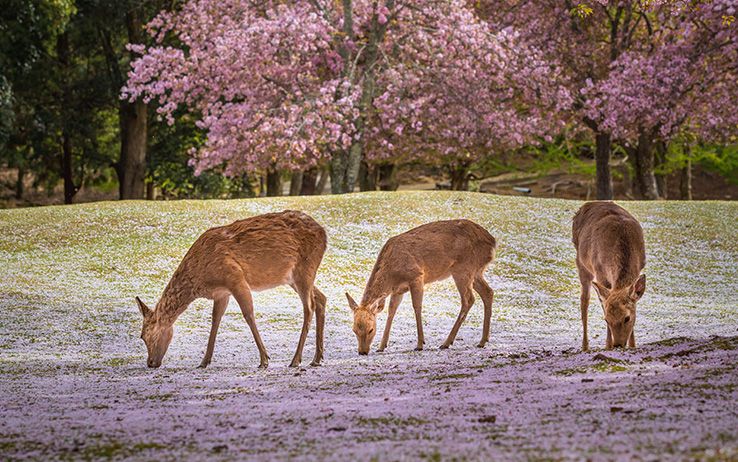 The first place we recommend you visit is Nara Park. An extraordinary experience is guaranteed thanks to the lush greenery surrounding you on each step you take through the park. Stop by a specially designed spot with a table and a bench to have a brief snack beneath a cherry blossom tree in full bloom and watch the passing by deers. Don't forget to get a snack for them as well.
Mt. Yoshino is the principal site of sakura trees in Nara, with more than 30,000 trees, and more than 200 varieties of them on its 5km long stretch. Have a hike with someone special and experience truly magical moments.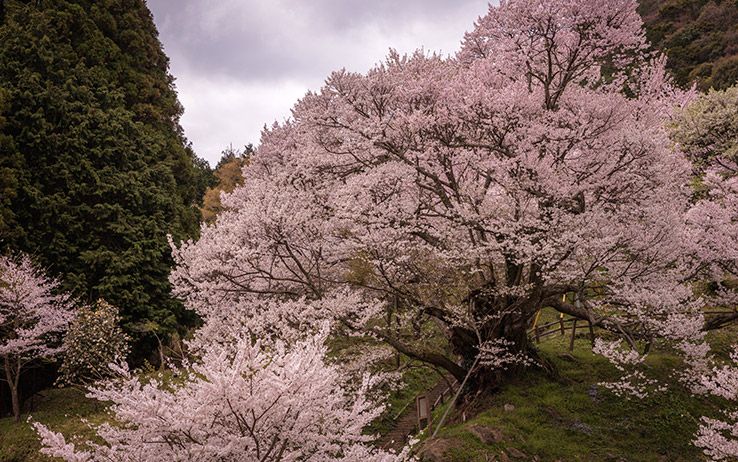 Make sure to visit Butsuryu-ji, a town that dates back to 850 A.D., not only to pick up on Nara's history but also to see the oldest sakura named as "sennen-zakura." The 1,000-year-old sakura measures approximately 9m in height and about 8m in circumference. Gasp at its 11 magnificent branches spanning on 2m up into the sky and take in this amazing experience.
5. Fukouka
Estimated Average First Bloom - March 15
Estimated Average Full Bloom - March 27 - April 5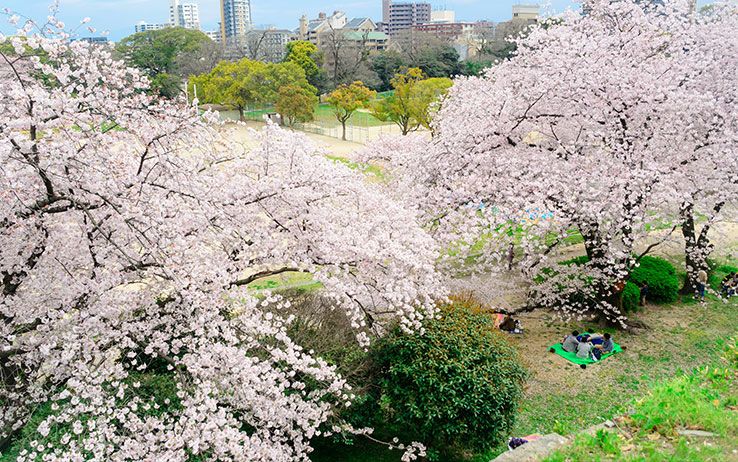 Maizuru Park accommodates the ruins of an old castle that was built in 1601, and around 600 cherry blossom trees within its borders. It is notable that this spot is extremely popular among locals and tourists, hence don't miss the opportunity to admire the spectacular views of the park, both during the day and at night.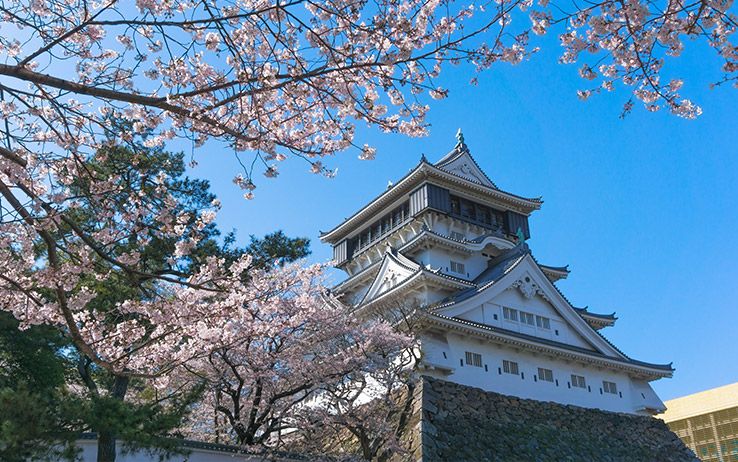 Make it to another park - Katsuyama Park - and get to know another impressive castle - Kokura Castle. The gorgeous scenery will amaze and revive you since the peaceful walk you'll take through the park will beneficially impact your physical and mental state.
6. Hiroshima
Estimated Average First Bloom - March 16
Estimated Average Full Bloom - March 25 - April 2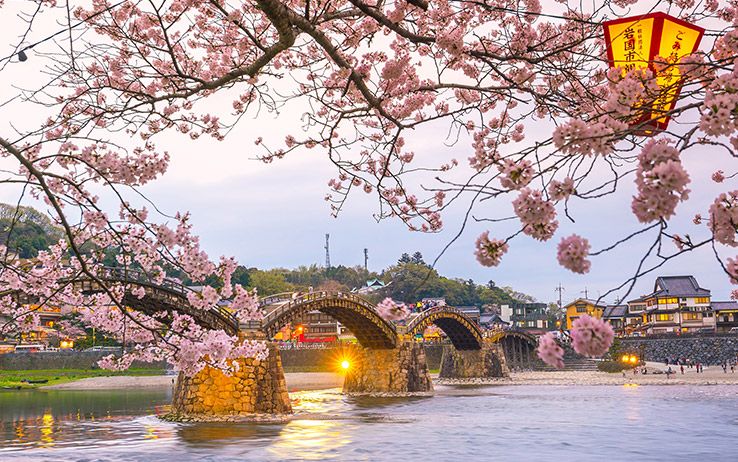 If you don't know where to start the cherry blossom viewing in Hiroshima, you may head to the Kintaikyo Bridge first. The 5-sectioned wooden bridge is nothing like you've seen before, and the charming cherry blossom trees add to the splendor of the location. Take a boat ride and gaze at the incredible scenery to bring home some vivid memories about your trip to Japan.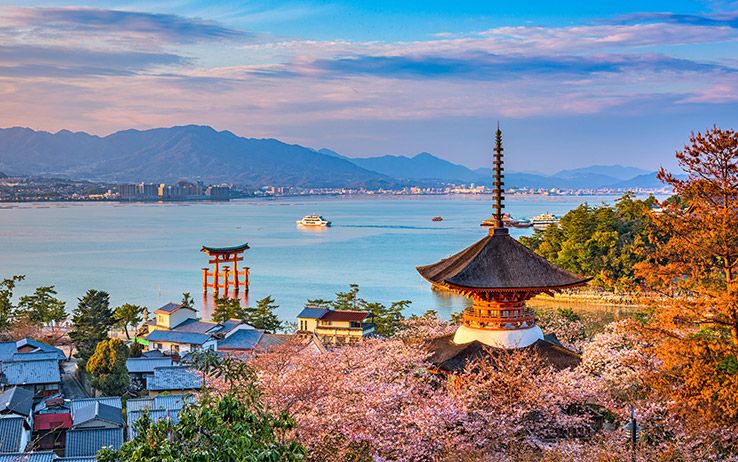 Let Miyajima be your next spot to visit for sakura bloom. This island is also a World Heritage Site, which makes it more popular among tourists. More than 1,900 sakura trees are making it even more attractive in the spring. Take a look at the Tahoto two-storied pagoda, Goju-no-to five-storied pagoda and Tanigahara to truly get the eye-candy scapes.  
7. Nagoya
Estimated Average First Bloom - March 17
Estimated Average Full Bloom - March 27 - April 4
Combine the relaxing time with a useful activity by visiting the Meiji-Mura Museum. Discover the 60 culturally important buildings around its grounds with blossoming cherry trees in the background. Take into account that the entrance fee constitutes 1,700 JPY for adults.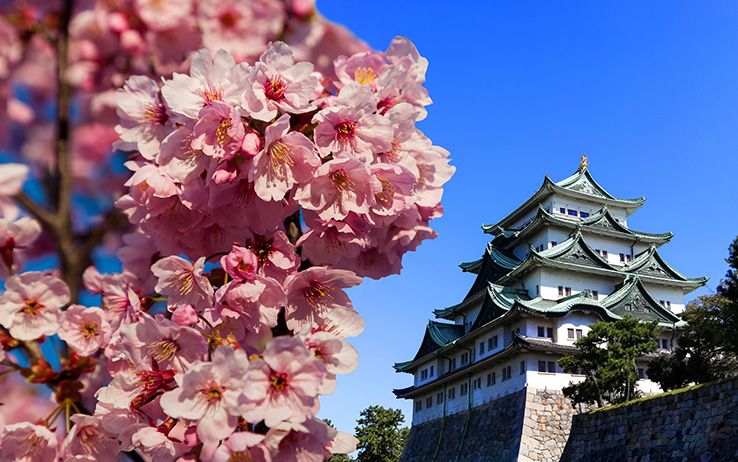 Nagoya Castle is the main landmark for tourists and locals to visit and witness its glorious walls surrounded by thousands of blossoming cherry trees. The breathtaking sightseeing during the day is transformed into a spectacular view at night when trees are lit by glowing lights.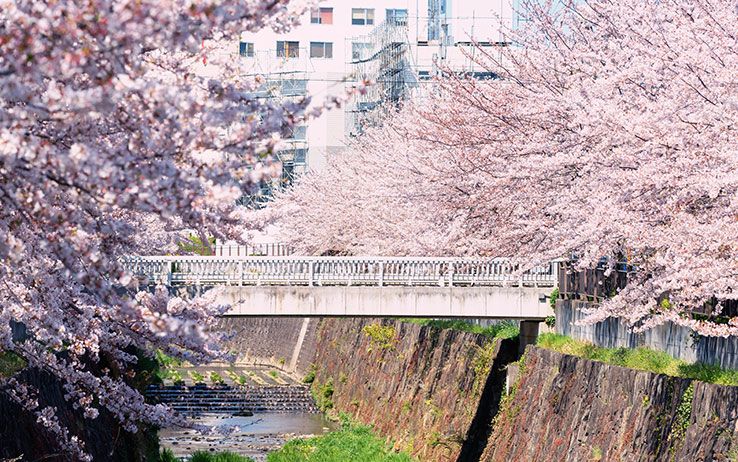 We also have to include on our list the Yamazakigawa Shiki no Michi, a pedestrian walk path by the Yamazaki River called Shiki no Michi. This area is frequently seen in top locations for cherry blossom viewing, hence it has to be visited.
8. Tokyo
Estimated Average First Bloom - March 15
Estimated Average Full Bloom - March 23 - March 30
If you think the busy metropolitan areas of Tokyo can't accommodate these incredible natural creations, you might be wrong. Tokyo features glossy skyscrapers anywhere you may look, but there's no lack of traditional Japanese vibes. Astonishing old structures rise above the ground, and so does a myriad of cherry trees in Tokyo's vast parks.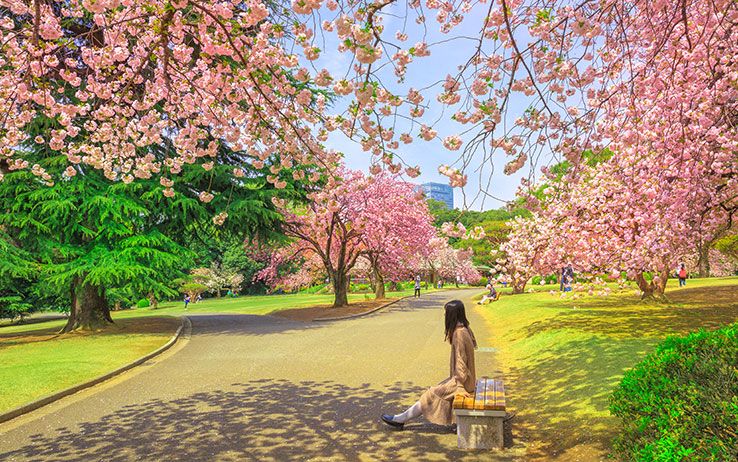 If you are in Tokyo only for a day, you may be able to catch the spectacular natural event in multiple places. Have lunch at the Shinjuku Gyoen, take a seat on a bench by the pond and take in the beauty of this wonderful park.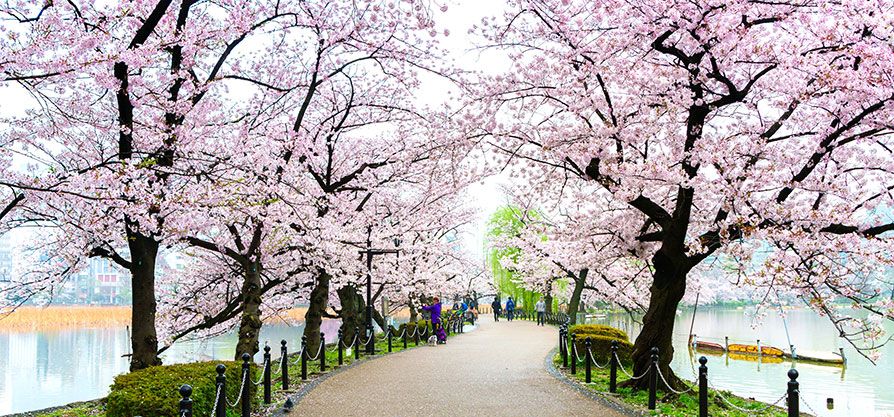 Then, set out for the Ueno Park where more than 800 paper lanterns adorn its ground to let the cherry blossoms absorb the warm light even at night. A serene environment and incredible scenery are set to impress and pacify you.
Last but not least, have dinner by the cherry blossom trees at the Park Side Cafe located in the same Ueno Park. The exquisite dishes will make your one-day trip to Tokyo more enjoyable.
Important Update: Nakameguro Cherry Blossom Festival is closed due to coronavirus outbreak. Two Disney resorts - Disneyland and DisneySea - are closed for about 14 days from the same reason.
9. Osaka
Estimated Average First Bloom - March 19
Estimated Average Full Bloom - March 28 - April 5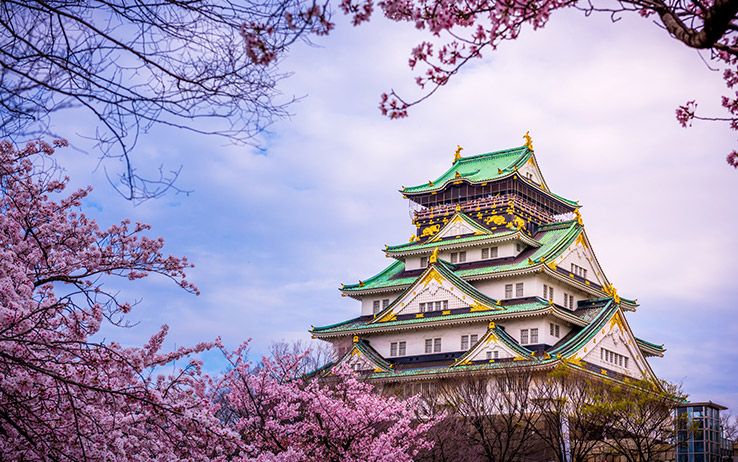 The epicenter of cherry blossom viewing is the impressive Osaka Castle. The area is extremely photogenic, hence don't forget to charge your phone to take the best selfies this spring, and let the myriad of sakura trees make them even prettier.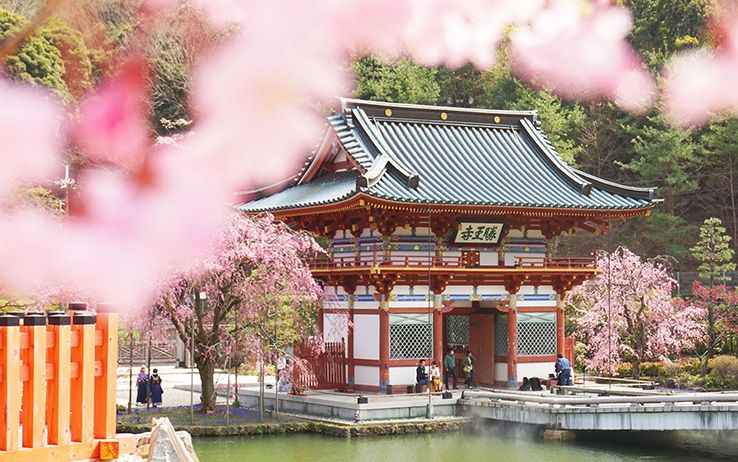 Katsuo-ji Temple is another location you have to visit to catch spectacular sightseeing of a historic structure, significant in the Japanese culture with a vast number of cherry trees blossoming as a backdrop.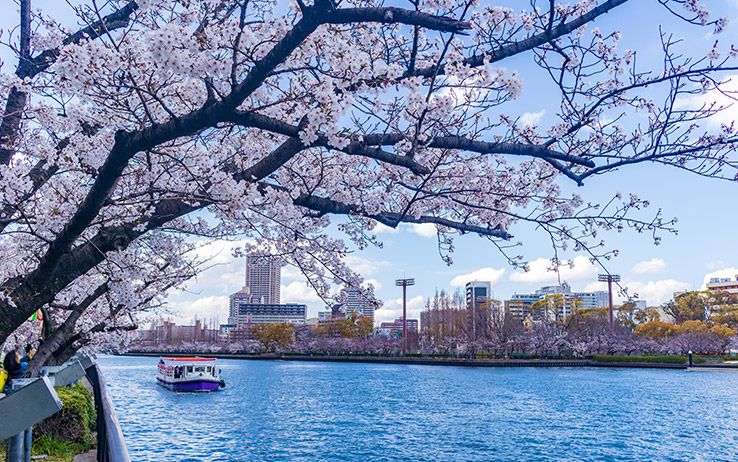 Stop by Kema Sakuranomiya Park to breathe in the fresh spring air and warm sun rays, as well as to gasp at the incredible view. You could also join the water ride by getting on a water bus slowly drifting the Okawa River and see large gatherings of sakura trees with notorious landmarks and structures in the background.
Important Update: Japan Mint in Osaka is closed due to coronavirus outbreak. Universal Studios Japan got closed from the same reason for 14 days.
10. Kanazawa
Estimated Average First Bloom - March 17
Estimated Average Full Bloom - March 23 - March 30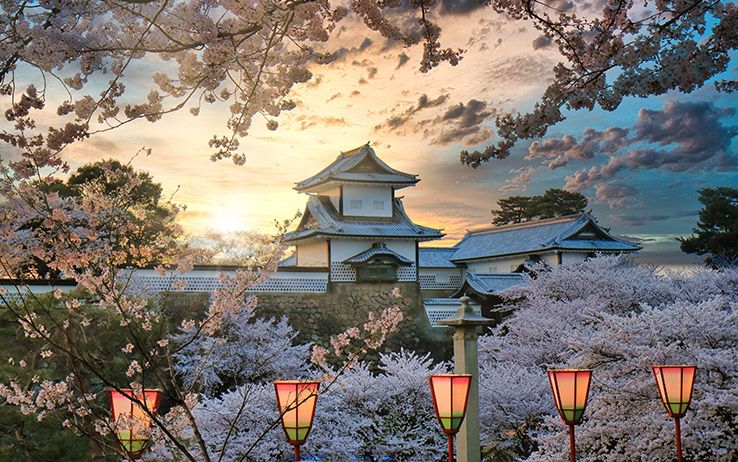 Japan is indeed full of incredible structures, both with an impressive cultural and historical significance, and Kanazawa Castle Park is one of them. The unique combination of multiple stone walls, gorgeous white watchtower, and pinkish sakura blossoms is truly breathtaking.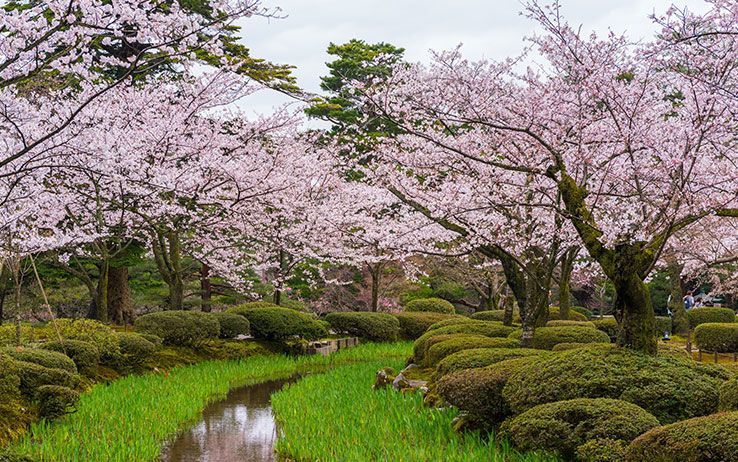 Take a trip to Kenrokuen Garden to see the genuine magical scenery of the traditional Japanese gardens. Beautiful ponds, narrow bridges, winding paths, lush greenery everywhere your sight falls on, and more than 400 cherry blossom trees will accompany you on your journey through the extensive Kenrokuen Garden grounds.
11. Nagasaki
Estimated Average First Bloom - March 21
Estimated Average Full Bloom - March 31 - April 4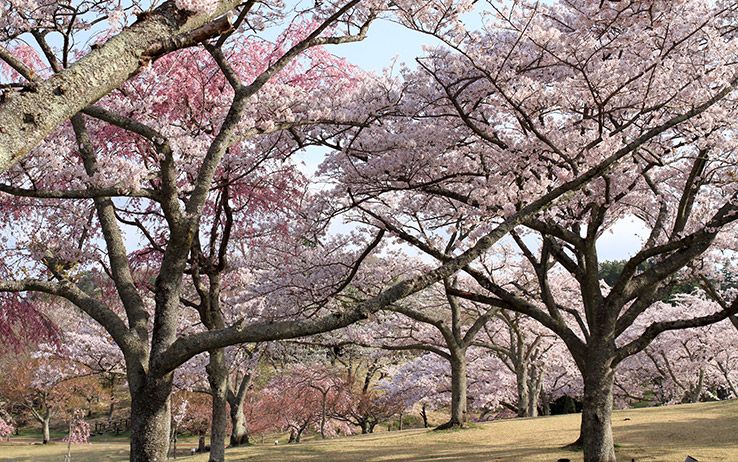 Outstanding areas for cherry blossom views within Nagasaki's borders are the Sakura no Sato and Tateyama Park. Sakura no Sato is famous for its vast area and multitude of activities to perform at. Tennis courtyards, children's playgrounds, and lots of cherry trees and diversify your leisure time.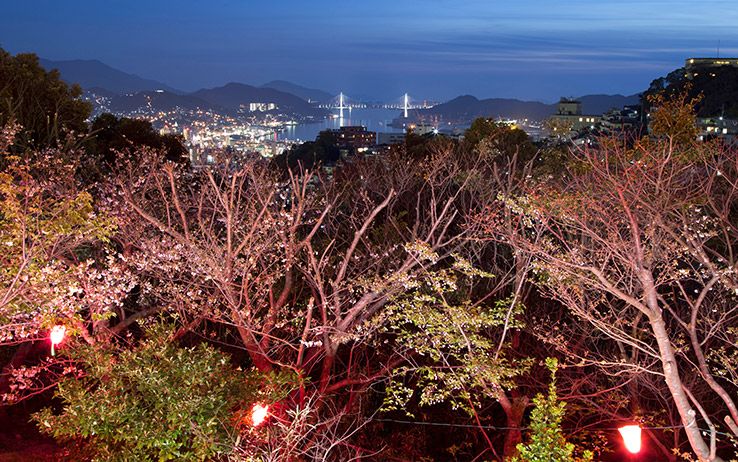 Head to Tateyama Park to gaze at the incredible scenery of the Japanese lands. More than 700 cherry trees have been planted along the hillsides of the park. If it's not enough eye-candy for you, then take a look at the breathtaking cityscape from the top of the hills.
12. Nagano
Estimated Average First Bloom - March 28
Estimated Average Full Bloom - April 3 - 11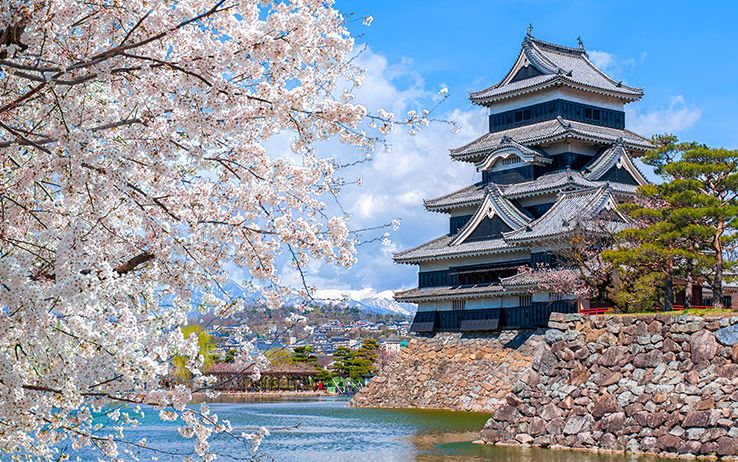 Matsumoto Castle is the principal site where crowds of tourists and locals are gathering to cherish the beauty of sakura bloom. No wonder it happens every year since the view is absolutely incomparable. The grandiose edifice rising from the water with cherry trees surrounding its structure and massive Fuji Mountain in the background will make you gasp from admiration.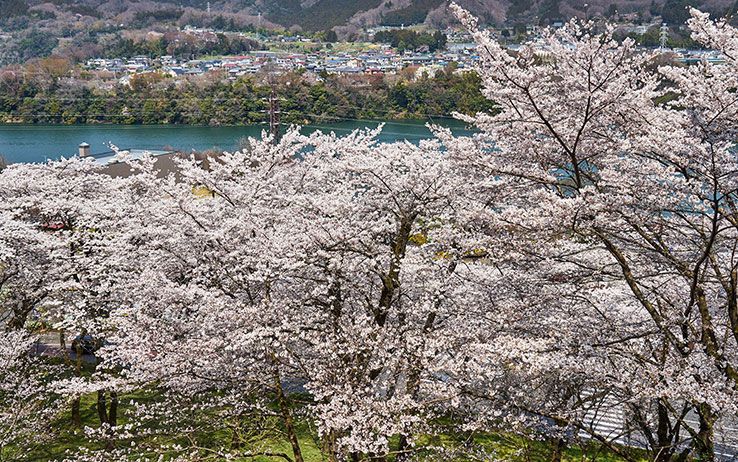 Next, stop in Nagano during the cherry blossom season is Shiroyama Park. Witness the reviving nature along with blossoming cherry trees and get a boost of inspiration and energy from it. If you have kids, you can take them with you. They won't get bored since there are specially designed areas for children to keep them entertained.
13. Sendai
Estimated Average First Bloom - March 27
Estimated Average Full Bloom - April 3 - 11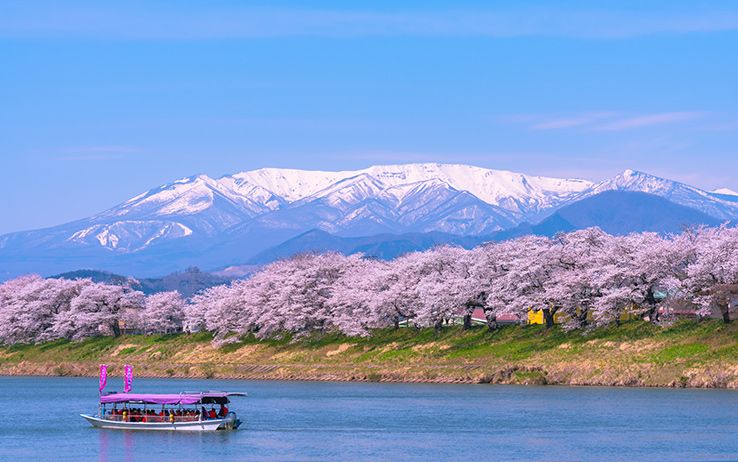 Escape the busy city and head to a serene and remote location. Just 30 minutes outside its borders by train is located the Shiroishi Riverside with an astonishingly pretty scenery. The notorious "Hitome Senbonzakura" - incredible spot for cherry blossom viewing combines both more than 1,000 cherry blossom trees and Mount Zao in the backdrop.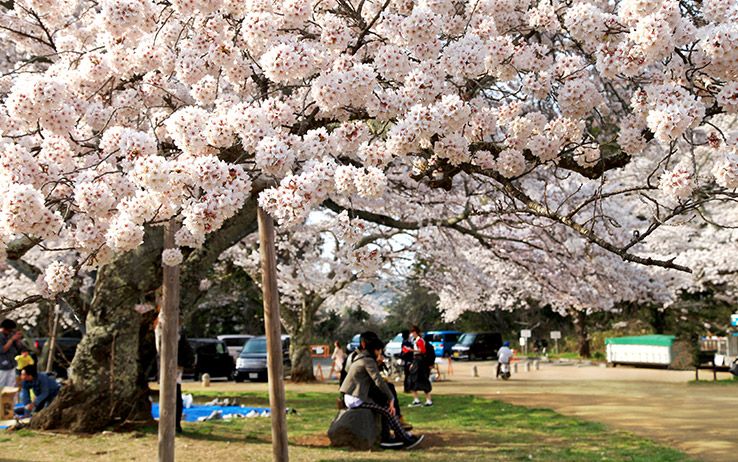 What about the in-city sports, Mikamine Park offers a gorgeous opportunity to join the watching cherry bloom party and have some rest under a cherry blossom tree in full bloom.
14. Aomori (Hirosaki)
Estimated Average First Bloom - April 14
Estimated Average Full Bloom - April 3 - April 11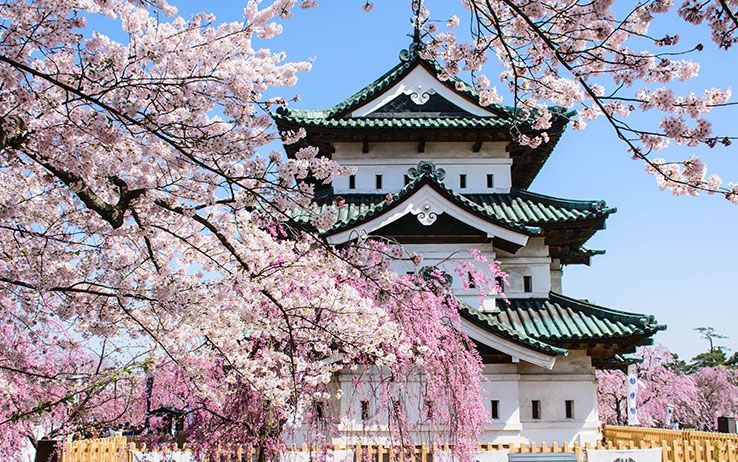 Hirosaki's areas are becoming really busy during the cherry blossom season, the notorious one being the Hirosaki Castle Park. Spectacular performances will keep you entertained while you come visiting the park. Another activity you could perform is taking a boat ride on the West Moat. It is also a fun way to watch the fluffy cherry trees in full bloom.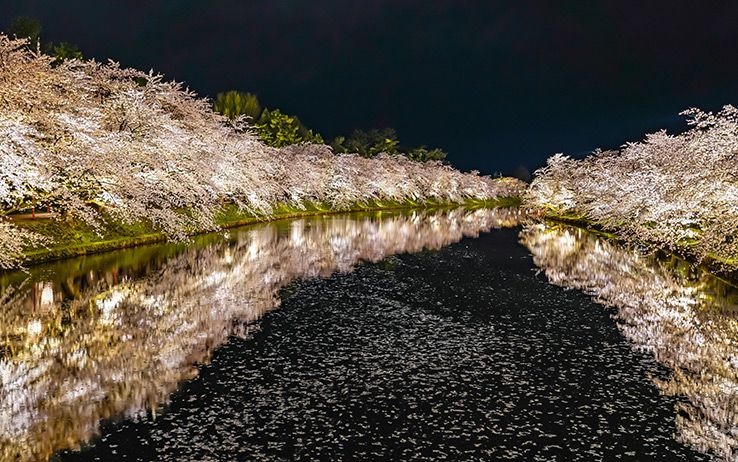 You could spend all day in this beautiful park since food stalls, as well as entertainment opportunities, can keep you occupied. Take your friends to a picnic and enjoy the springtime.
15. Sapporo
Estimated Average First Bloom - April 24
Estimated Average Full Bloom - April 28 - May 5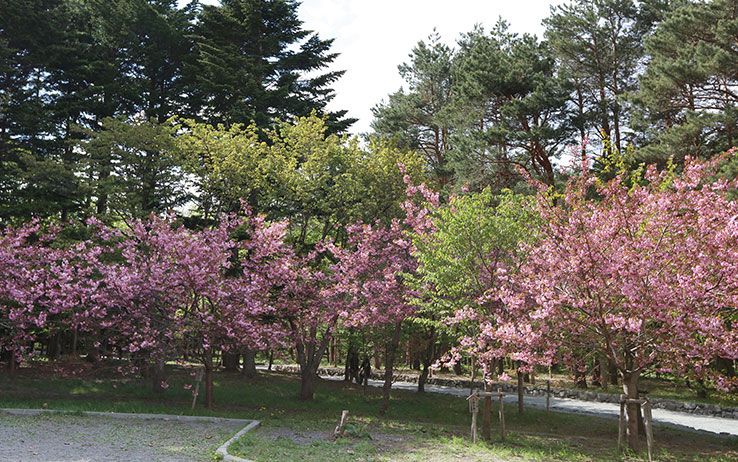 The most gorgeous place in Sapporo to catch an impressive look at the blossoming cherry trees but also the beauty of Japan is definitely Maruyama Park with Hokkaido Shrine within its grounds. People are usually coming to Maruyama Park to have a picnic and enjoy the company of their friends. Do the same since this is the best way to admire this splendid natural event and know more about Japanese landmarks.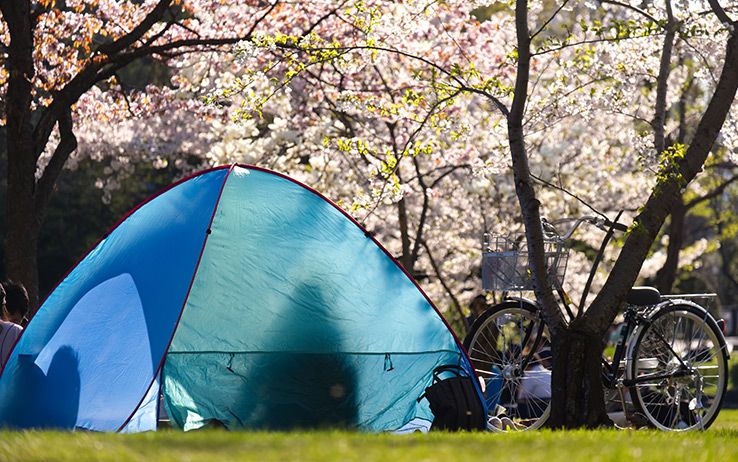 ---
There you have it, a complete list of the best spots to watch the magnificent sakura bloom with the estimated cherry blossom bloom times.
Airflyby team will keep you updated as the cherry blossom forecast gets updated. Therefore, keep track of the following updates. Hopefully, we made you wish to travel to Japan and see with your own eyes the splendid views it offers throughout the cherry blossom season.
Last Updated on March 2, 2020.