For a better understanding of how the flight searching and the booking process is functioning, we'll show it on the example of a travel website. We'd like to present to you Ovago Travel Agency as our candidate for this case. It is a fairly easy travel website that allows searching and booking flight tickets without hassle and many efforts.
Selecting Types of Trips by Plane

You have several flight search options on the main page. In the Search Cheap Flights section, select the first filter to pick one suitable option from the existing types of flights.
Round-Trip - to fly from one point on the map to the destination you choose, and back to the departure point. (A⟶B⟶A)
One-Way - to fly from one point on the map to the destination you choose, without having a return flight. (A⟶B)
Multi-City - to fly to diverse locations. Hence, you'll have to choose the flights between those locations. (A⟶B+C⟶D)
Selecting Timetables and Locations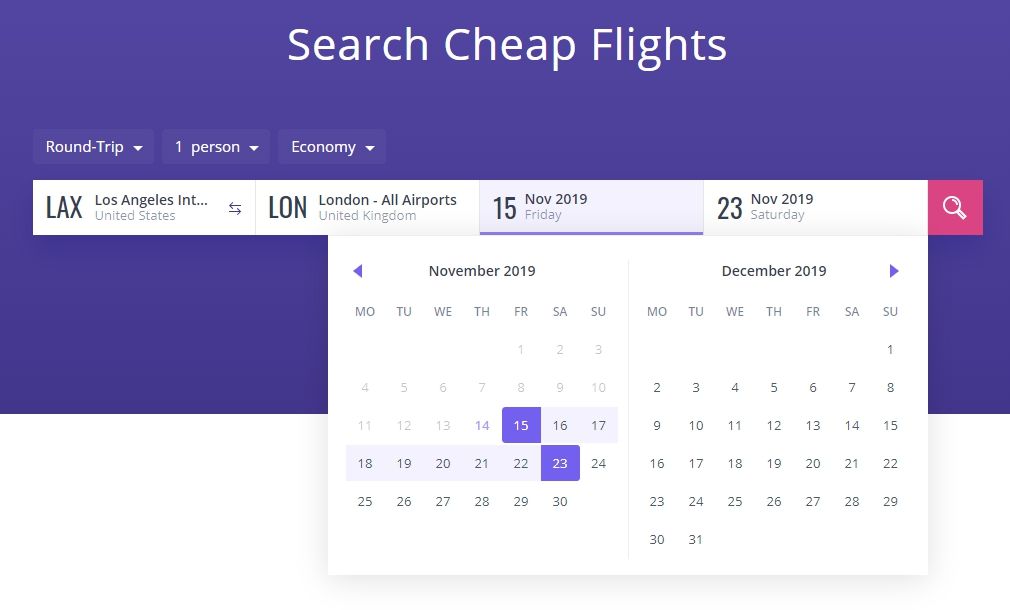 Timetable Search will enable a prompt and simple way to choose the convenient days for your travel type, thanks to the built-in calendar.
Location Search works for both countries and cities, as well as IATA codes. Type in at least two characters to get useful suggestions.
Types of Travelers

To select the number of air passengers, you'll have to choose the types of travelers based on their age. You can choose up to nine air passengers for one trip. Ovago has put to its customer display three categories of passengers:
Adults - travelers whose age is over 12 years.
Children - travelers whose age is between 2 and 11 years. Unaccompanied minors are able to travel, but you would have to check with the agency to have relatable details for each case.
Lap infants - children whose age is under 2 years. If you choose this option, you'll have to hold your child(ren) on your lap. Though the infant won't have a separate seat, you will have to pay the charge and the fees. The price for transporting lap infants, however, is considerably lower than for children and adults.
Ovago is one of the agencies that take advantage of the airline's private fare type, which means that airlines are providing the agency with unpublished fares that are much lower than the regular published ones. These fares, though, can't be disclosed until requested. Therefore, you'll have to contact the travel agency to get a quote and book a flight at an incredibly low fare.
Note: Unaccompanied travelers must be older than 18 years to be able to purchase tickets through Ovago.
Selecting Flight Ticket Class

Besides Economy that is set on default, Ovago offers flights on diverse plane class types. You can select between four types of plane tickets based on the seating class. Please note that the number of seating classes and their names can be different from those used by airlines or other travel agencies.
Economy class seating is the least expensive class whose seatings occupy the main cabin area.
Premium Economy class seating is more expensive than Economy class but offers several greater in-flight benefits that Economy can offer. It is usually characterized by a roomier leg space, bigger seats, and other facilities that depend on the air carrier and the aircraft. Premium Economy is available in specific aircraft and airlines.
Business class seating is on the pricier side but offers roomy leg space, comfortable large seats, deeply reclining seats, and a wider range of meals. Besides in-flight facilities and amenities business class travelers are getting, the class type provides on-ground benefits like a business lounge and a faster check-in. Business class is available in sorted airlines.
First class seating is not available in a great number of aircraft. Considering the number of amenities and facilities that it offers, the highest price of all the classes are worth it. Located in the front part of the plane, First class displays only several seats that are large, comfortable, and luxurious. Travelers that fly first class are usually offered champagne and meals that impress with their creation and art. Priority check-in, lavish lounges, and extended baggage allowances can also be part of first class facilities, depending on the airline.
Selecting Flight Search Options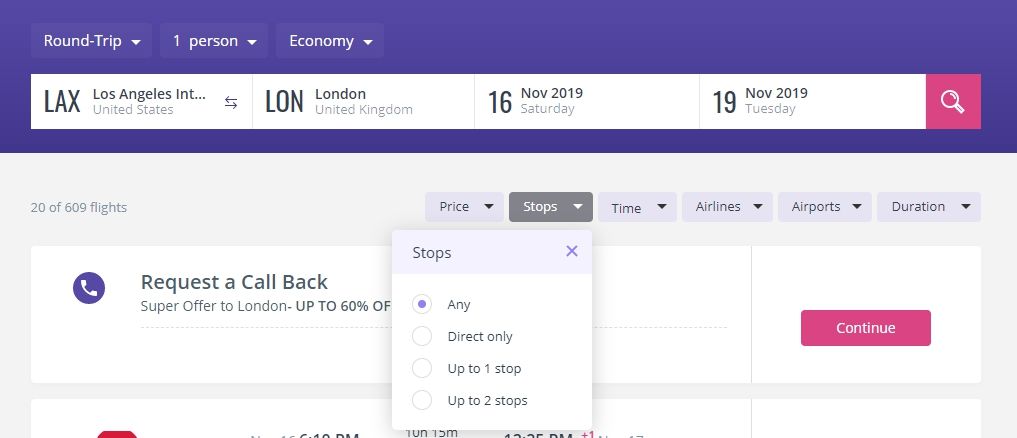 When you finish selecting flight ticket class, the air travel type, and the types of travelers, you will be displayed the selection of flights with short details and prices. Above all of them, you'll find several filters that will narrow the offers to your particular needs.
Price - to filter the offers according to your budget.
Stops - to select whether flights with one or several stops, non-stop or direct flights.
Time - to select specific hours of takeoff and landing, for both inbound and outbound flights.
Airlines - to select specific airlines.
Airports - to select particular airports.
Duration - to sort flights after duration.
Getting an E-Ticket Online
With Ovago, you take advantage of purchasing e-tickets. You probably know how convenient this type is out of all types of plane tickets. Once you decide to go on air travel and make your booking, you get the e-tickets in up to 24 hours after the booking is being processed.
The email you would get will contain your travel and personal details you provided, the e-ticket, along with the confirmation number(s) and the booking ID. It is a fairly easy process, and it consumes minimum time and effort. The travel agency is also affirming to provide extremely cheap tickets upon request. For more information, check Ovago Travel Agency website and don't miss the opportunity to find convenient travel solutions at low fares.
Your Dream Flight Fare is closer than you think
Your Dream Flight Fare is closer than you think
Book
Last Updated on November 11, 2019.